Top Finance Books to Read: Unlocking the Secrets to Financial Success
Whether you're a millionaire or someone who is just starting out with your financial journey, there are a colossal amount of money guidance books out there that can set you on the right path.
If you're eager to learn about the inner workings of money, investing, how to retire early or are even just looking for smarter ways to intelligently manage your money, then this list I have put together of the top finance books to read can help you take control of your future and financial freedom.
I compiled a list of five top finance books to read based on my own research and experience. I've searched far and wide across every website and their recommendations known to man, and this list of five is by far the most useful that I have come across.
Although I will list these in the order of best to worst based on my own reading experiences, you may not necessarily like my top number #1 pick as much as the other 4. So it's up to you to decide which one is your favourite.
In fact, I'd love if you could leave me a comment letting me know which book like the most out of this list, or if there is any other notable finance books you think I've missed!
How I Curated the Top Finance Books To Read: Top 5 Picks
Before I reveal the top finance books to read, I want to share a little bit about my selection process. To me, these books are more than just financial resources – they're game-changers. That's why I handpicked each one with three key metrics in mind: practicality, relevance, and inspiration.
Practical, applicable advice was my top priority. I believe that financial education should be accessible to everyone, regardless of their background or level of education. That's why each book on my list is written in simple language with actionable tips and advice you can start implementing today.
Relevance was also crucial. We all have different financial goals and lifestyles, so I made sure to include a diverse range of perspectives and topics in my selection. Whether you're just starting out or looking to take your finances to the next level, you'll find a book on my list that speaks directly to you.
Finally, I looked for inspiring stories that would motivate and engage readers. Let's be honest, finance can be a dry subject – but it doesn't have to be. Each book on my list is filled with engaging anecdotes and inspiring stories that will make you excited to take control of your finances.
Throughout this post, I'll be sharing links to each of the books on my list so that you can easily get your hands on them. I truly believe that these books have the power to transform your financial life, and I'm excited to share them with you.
Disclosure: My website/blog is reader-supported and may contain affiliate links. If you decide to make a purchase through links on my site, I may earn an affiliate commission, at no extra cost to you. You can read my full affiliate disclosure here.
Top Finance Books To Read (In The Order That I Enjoyed The Most)
The Barefoot Investor, By Scott Pape

The Intelligent Investor, By Benjamin Graham

The Millionaire Next Door, By Thomas J. Stanley

Rich Dad Poor Dad, By Robert T. Kiyosaki 

The Automatic Millionaire, By David Bach
1. The Barefoot Investor, By Scott Pape
I may have been slightly biased in my decision to list this book as number #1 on my list. And that's because I'm Australian. This book was created with the intent of helping Australians, and bloody hell did it deliver!
Even though this book covers several areas that are specific to Aussies, the book overall touches on vital financial concepts that are applicable to absolutely everyone, no matter where you're from.
There's a reason why one in every 20 Australian homes owns a copy of this book.
It is by far the most practical, down-to-earth read that you will ever come across in the finance world.
Scott Pape does an incredible job of taking you on a journey and simplifying down the unnecessary clutter that is often perceived when it comes to personal finance.  
The premise of the book takes you down a ridiculously easy-to-understand and intuitive three-step process: plant, grow, and then harvest your money.
By the end of the book, Scott walks you through a lifetime of acquired experiences, learned mistakes  and money tips, leaving you with a structured blueprint on how to eliminate debt, live for today, and retire wealthy in peace, all of which is written in a simple "do this, do that" language that even the utmost beginner can follow along with.
Who should read this book?
This is the perfect all-rounder book. But it is especially great for anyone who is struggling to live a financially comfortable life, or anyone who is overwhelmed by the concept of money and how to make it work more effectively for them.
How to break your key source of income into several different accounts (which Scott refers to as buckets)

When and how to buy your first home and minimise the costs of lenders mortgage insurance

The critical importance of superannuation (Australia's retirement fund) and simple changes that you can make to save hundreds of thousands of dollars over your working career.
2. The Intelligent Investor, By Benjamin Graham
Although certainly not as 'lively' as the Barefoot Investor, the Intelligent Investor is packed full of foundational finance concepts. The book explains value investing, which is focused on generating steady, long-term profits by ignoring the current market and picking companies with high intrinsic value.
In essence, it explores how value investors search for companies that have great fundamentals and then buy their shares at a discounted price (before mass adoption happens). After that, all they have to do is wait, because eventually, the real value of the company will be realised and unlocked by the masses.
Millions of people have read this book and have found it invaluable, which is why it has been labeled on many occasions the single best book on investing that has ever been written. Hearing reviews like this is all well and good, but when Warren Buffet, who is possibly the most famous and influential investor of the current day recommends this as the #1 investing book ever written… Well, that's when you should really pay attention.
Who should read this book?
This is probably the most financially packed book on my list. And for that reason, it is best suited for people who have a solid foundation for investing. That's not to say that a beginner won't find it incredibly useful, but if you've already developed a fountain of financial knowledge, then the topics covered in this book will be all the much more applicable and relatable.
There are 3 principles to intelligent investing: analyse for the long term, protect yourself from losses, and don't go for crazy profits.

Never try and time the market (day trading and picking the best times to buy and sell) because it is very irrational to do so in the short and medium term.

Hold true to a strict formula by which you make all your investments, and you'll do fine in the long run.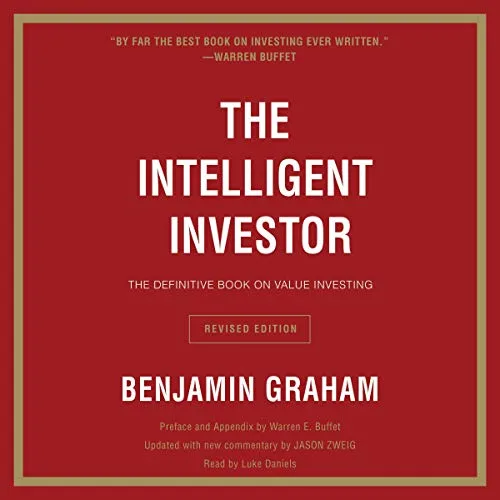 "Those who do not remember the past are condemned to repeat it." — Benjamin Graham
3. The Millionaire Next Door, By Thomas J. Stanley
The third pick in my list of top  is The Millionaire Next Door.
This book is a wonderful read to change your perspective on what a 'millionaire' looks like. It aims to eliminate the myths and misconceptions about the rich and wealthy.
The book talks about how the overwhelming majority of millionaires are people whom you would least expect, no big flash house, no fancy car – instead just everyday ordinary people who have fine-tuned the art of establishing intelligent money management habits.
If I were to summarise this book in one sentence, then it would be this: The Millionaire Next Door is the result of decades worth of research, surveys, inerviews and statistics.
This is one of the main differences between this book and others on the list of Top 5 Finance Books That You Must Read – instead of teaching you how to become wealthy, this book shows you what actual millionaires have already done.
The book aims to stop you from becoming a UAW — a term which is coined in the book and stands for under-accumulator of wealth. It delves into how most people could save significant portions of their income whilst still enjoying the pleasures of life, by focusing on the things that really matter and bring personal satisfaction, as opposed to materialistic consumer products.
Who should read this book?
This is the perfect book for you if you enjoy cold-hard facts and statistics. You will read about real millionaires from real case studies and how they got to where they are today.
In order to become rich, you must develop frugal habits and save responsibly from the moment you start earning more than you need to live off.

Apply the simple net worth formula to calculate if you're falling short of your Finance potential.

Avoid economic outpatient care — spending too much money supporting others — to reach your goal.
4. Rich Dad Poor Dad, By Robert T. Kiyosaki
Rich Dad Poor Dad is a book that epitomises the phrase "it's not about how much money you make, but how much money you keep".
The book traces the story of two fathers; one of which is financially wealthy, the other of which is financially poor. The two dads that are referenced throughout the book are actually an allegorical story about Kiyosaki own "two dads", the poor dad being Robert's biological father, and the rich dad being his best friends father who is an educated college professor and wealthy entrepreneur.
The purpose of the book is to present to the reader the starkly different financial understandings that can exist between people.
In this book, you'll dive deep into financial literacy, acquiring wealth through assets, and what it means to be financially free.
Who should read this book?
A great book for people who want to become financially independent.
Use your money to buy assets, not liabilities

Being financially smart can only be learned through experience e.g. master accounting, investing, etc.

Give yourself opportunities and avoid fear/self-doubt
5. The Automatic Millionaire, by David Bach
Next up on my list is The Automatic Millionaire by David Bach.
When he was seven years old, his grandma took David Bach to McDonald's. Over lunch, she told him there are three types of people in the world: those who eat at McDonald's, those who work at McDonald's, and those who invest in McDonald's. Wow! Later, Bach became a vice president at Morgan Stanley. Today, he runs a consultancy and publishes books. 7 of 12 are New York Times bestsellers, and this one is his most practical template for building wealth.
The Automatic Millionaire is an actionable, step-by-step plan for building wealth without being disciplined by relying on fixed percentages, small payments, and automated transactions.
A simple, practical guide that takes you through a step-by-step plan for building wealth and retiring early.
With several practical pieces of money related advice, Bach's philosophy follows three rules: you don't have to make a lot of money to be rich, you don't need discipline, you don't need to be your own boss.
Who should read this book?
This book is great for people who think they need a lot of money to retire at a young age, when in actual fact this isn't the case. It can teach you how to retire as a millionaire with a house at 55.
It's best suited for people who tend to fail at sticking to strict budgets
The importance of setting up automatic transfers to cover things like rent, bills, and credit cards

Paying yourself first before spending your money

Grow your savings slow and steady  – take 10-20% from your paycheck and put it aside into a savings account

Getting used to putting away small but consistent amounts without needing to be disciplined yourself
Final Thoughts: Why These Finance Books Are a Must-Read
Thanks for joining me on this journey through the top finance books to read. I'm confident that reading these books will transform the way you think about money, just as they did for me.
Personally, I've gained a wealth of knowledge about investing and money management from these books. I hope that you'll find them just as valuable and insightful as I did.
If you've already read any of these books or plan on reading them, I'd love to hear your thoughts and feedback. Feel free to leave a comment below and share your experiences with others.
Remember, financial literacy is a lifelong journey, and these books are just the beginning. Keep exploring and learning new ways to manage your money, and don't hesitate to share your knowledge with others.
Thank you for reading, and I wish you all the best on your financial journey.
Other Top Finance Picks To Read
Not all my favourite top reads made it into the Top 5 Best Finance Books That You Must Read.
Here are some other note-worthy reads that you should definitely check out!