Hi There!
Tune in for a quick and easy money hack that can save you hundreds of dollars simply by using cashback apps when making online purchases.
Cashback apps are a great way to save some cash on your online purchases – or at least earn some money back from your purchases.
These apps are particularly advantageous during major sales events and seasonal sales such as Black Friday, Cyber Monday, Christmas, End of Financial Year (EOFY) sales, and end-of-season clearance sales
Basically, cashback apps are companies that partner with many hundreds of online retailers. This allows customers to browse the cashback app and shop with many different retailers, including big named brands such as Apple, Microsoft, Target, Nike, Adidas, eBay, Amazon etc.
Each time a customer clicks on one of the retailers that are linked to the cashback app platform, the platform receives a commission if the customer proceeds to make a purchase on the retailer site – kind of like a finder's fee reward for directing customers to the retail store where the purchase is made.


So how can cashback apps benefit you?
Well, it benefits you because part of the commission amount is paid out to you (the buyer) inside the cashback app when you make a purchase.
The commission amount varies depending on the retailer you made a purchase with, but most partner stores linked to the cashback app will get you 1-5% cashback on your purchases, but this can be much higher as well. For example, I recently got 24% cashback on a purchase I made for a Hostinger shared web hosting plan.
The best part is you don't have to pay anything extra to get these cashback rewards, so it's a great way to make some money back on your purchase if you're buying things online.
It's important to know that in order to get your cash reward, you have to access the retailer's store through the specific cashback app platform you're using before making your purchase. For example, Cashrewards (which is a popular cash-back app that I use) offers 7% cash back on all Amazon purchases. But in order to get this 7% cashback, you have to open up the Cashrewards app/website, search for the 'Amazon' store promotion and then click the 'Shop Now' button.
This will redirect you to the Amazon store page, but since you accessed it from the Cashrewards app, the link you clicked will have an in-built 'tracking' link, which tells Amazon that Cashrewards sent you to their store. This is how Cashrewards and other cashback apps know you made a purchase!
So if you access a retailer directory by typing the name into Google, you won't be able to get the cashback reward, so always be sure to access the retailer site through the cashback app platform you're using!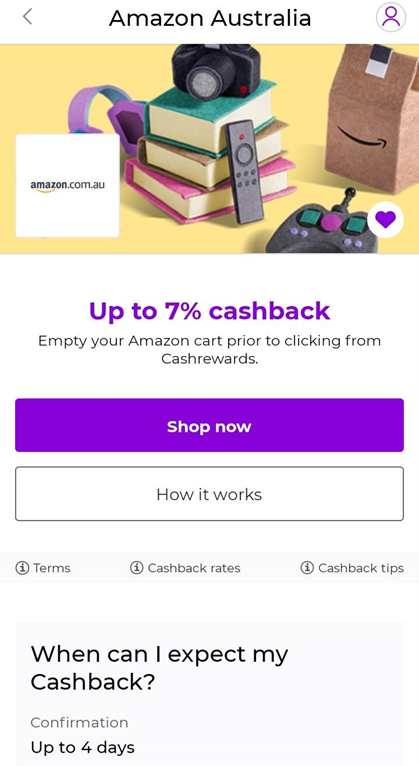 Setting Up An Account With Cashback Apps
Setting up an account with cashback apps is quick and easy, and costs nothing. Usually your rewards are paid via PayPal, or often a linked bank account.
One thing to note is that there is usually a waiting period (often over 30 days) after you make a purchase before you get the cashback reward. This is to ensure you haven't returned the goods and gotten a refund.
I've provided links to the recommended cashback apps I use in the section below, so be sure to check these out and sign up yourself.
Whenever I need to shop online, I use cashback apps myself. Because well why not? If I can get a portion of my purchase paid back to me… then why on Earth wouldn't I?!
There's many cashback apps out there, and the ones I use may not be applicable or valid to everyone depending on your country of residence.
Since I'm based in Australia, I've listed a couple of the most popular cashback apps that I use below.
All of the apps listed are super simple to sign up with. All you need is an email address to create your account, and then all you have to do is add your bank card or PayPal account so that you can be paid out after making purchases!
Check them out if you're interested in earning some cash back from your online purchases!
The app has over 1.5 million Aussies signed up, with some really good feedback.
That's why this is the main cashback app I use myself – they seem to offer higher % cashback payouts compared to some of the other apps I've tried.
Cashrewards is also running a great promotion at the moment, where if you sign up with this link, you will get $20 into your Cashrewards account if you make a qualifying purchase of $20 or more within 14 days of signing up.
If you are curious about the user interface and specific features of Cashrewards, I have written a comprehensive Cashrewards Review Australia post that covers everything you need to know.
ShopBack is offering a cool incentive called Daily 'Upsizes'. These are short-term promotions for specific retailers where the cashback amount is 'upsized'. For example, recently a clothes retail store I was buying from had a daily 'Upsize', which increased the cashback reward from 3% to 8%!
Just like Cashrewards, ShopBack is running a promotion currently as well to try and get new members. If you sign up with a new account using this link, you can earn $30 by simply making a qualifying purchase of $20 or more.
It makes sense to look for ways to save on purchases or to make money back on your purchases!
But just be careful to ensure the prospect of cashback rewards doesn't fuel increased spending habits! 
Ultimately, the best way you can save money is to not make unnecessary purchases in the first place. So always ask yourself if what you're purchasing is actually necessary!