Sharesies Australia Review In A Nutshell
Sharesies has rapidly emerged as a leading investment platform in Australia, offering unparalleled access to thousands of companies and funds across multiple markets. With its user-centric design, no minimum investment requirement, and features like automated investing, Sharesies caters to both novices and seasoned investors. This Sharesies review dives deep into its features, user feedback, and why it might just be Australia's next big investment solution. Plus, we'll address common misconceptions and provide tips to maximize your investment journey with Sharesies.
Sharesies has made a significant mark in the investment world, especially in Australia. With its user-friendly platform, it offers Australians a unique opportunity to invest in thousands of companies and funds across Australia, the US, and New Zealand. The best part? There's no minimum investment, allowing you to start your investment journey with as little as you're comfortable with. Whether you're a seasoned investor or just starting out, Sharesies provides a platform that's both intuitive and informative.
Sharesies has emerged as a fresh contender in the investment platform arena.
Designed to evolve with the times and cater to the needs of the modern investor.
Born in New Zealand, Sharesies has since extended its innovative services to Australia, challenging the traditional norms of the investment landscape.
Unlike conventional brokerage accounts in Australia, which often come with complex interfaces, hefty trading fees, and high minimum investment requirements, Sharesies is built on the ethos of democratizing investments.
It's crafted to be intuitive, transparent, and welcoming to all, irrespective of one's financial prowess or background. 
With Sharesies, the vast world of over 8,400 companies and exchange-traded funds (ETFs) across Australia, the US, and NZ becomes accessible to everyone.
But what truly sets Sharesies apart is its mission to dismantle the barriers that have historically deterred a significant segment of the population from investing. 
Recognizing that many potential investors, especially millennials and Gen Z, are often intimidated by the complexities and perceived risks of the stock market, Sharesies offers a simplified, user-centric approach. This is not just about providing a platform; it's about fostering a new generation of confident investors.
Their relentless commitment to making investing accessible and understandable hasn't gone unnoticed. In 2023, Sharesies was lauded with the "WeMoney Winner" title for the best investing platform of the year in Australia. This accolade is a testament to their innovative approach, bridging the gap between everyday individuals and the world of investments.
Features of Sharesies Australia
User-Friendly App Interface
Sharesies offers a seamless experience, allowing you to manage your investments on the go. 
The platform is designed to be intuitive, ensuring that you can invest by country, industry, or even align your investments with your values. 
Plus, with the Sharesies app, you can check on your portfolio whenever and wherever you like.
Both the desktop and Sharesies app platforms contain minimalist styled user interfaces, making it intuitive and easy to navigate.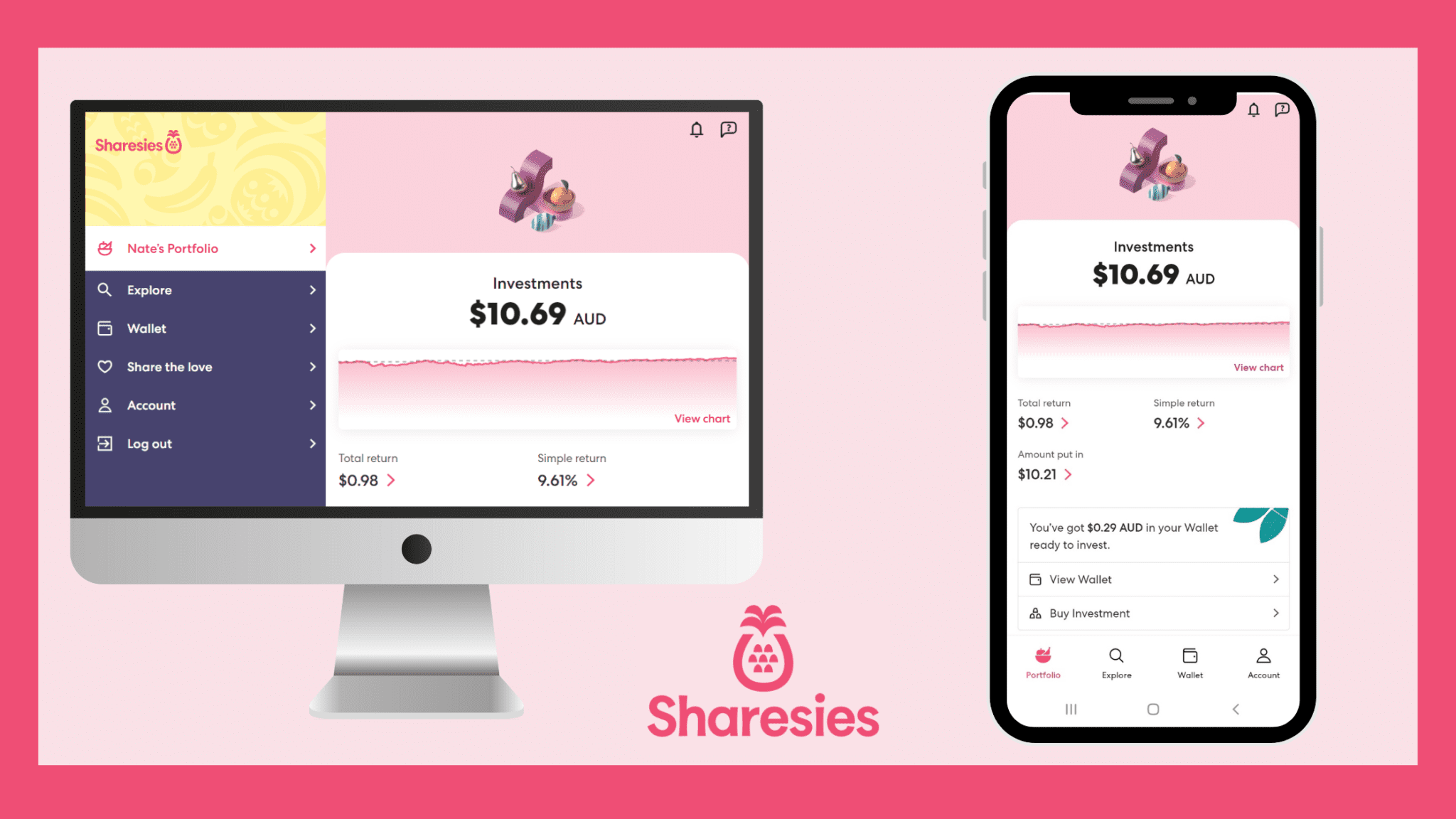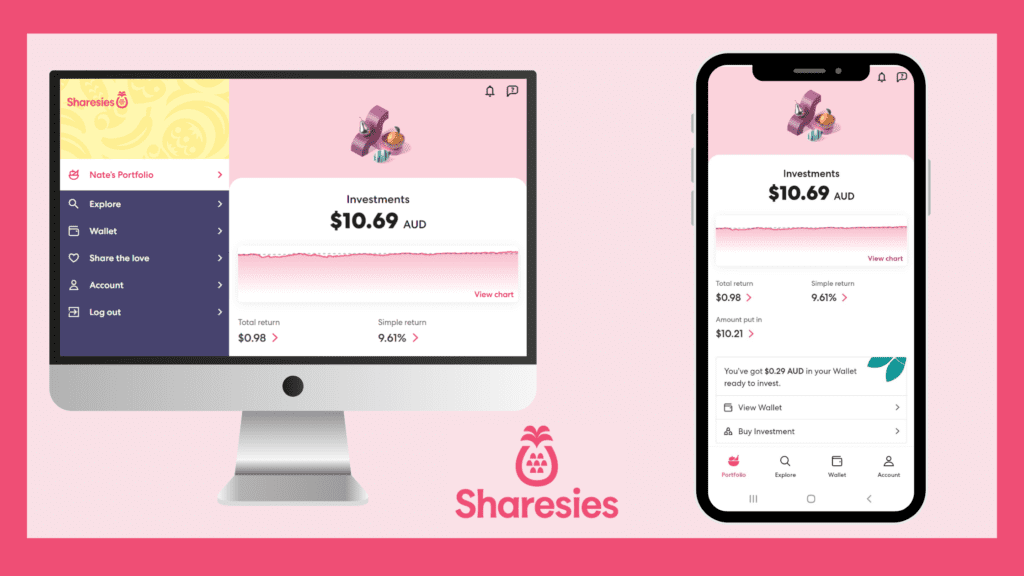 Affordable Entry: Sharesies' Low Buy-In Costs
When I first ventured into the world of investing in Australia, getting started was extremely confronting.
Traditional Australian brokers often set the bar high, with minimum investments frequently exceeding $500. For many, especially those just dipping their toes into the investment waters, this can be a significant deterrent. 
Enter Sharesies, a game-changer in the investment landscape.
Unlike its counterparts, Sharesies redefines the concept of "minimum" investment. Here, you can embark on your investment journey with as little as 1¢.
How?
Through the innovative approach of fractional investing. Instead of committing to an entire share of a company, Sharesies lets you purchase just a fraction. This approach not only makes pricier stocks accessible but also ensures that every cent counts.
This isn't just about affordability; it's about democratizing the investment world.
Sharesies levels the playing field, ensuring everyone, regardless of their financial status, has a fair shot at investing. It's a breath of fresh air, especially for young investors, students, or those working with a tight budget. 
Flexible & Easy Investment Options
Starting your investment journey with Sharesies is as straightforward as it gets.
First, you'll need to deposit funds into your Sharesies wallet. This can be done through various methods, ensuring convenience at every step.
Once your wallet is funded, you're all set to dive into the world of investing.
Navigating through Sharesies' platform, you'll quickly realize the vast array of investment options at your fingertips. You're not restricted to a handful of stocks or funds. Instead, the world is your oyster with over 8,400 companies and ETFs from Australia, the US, and New Zealand available for you to explore.
Whether you're keen on local businesses, international giants, or a mix of both, Sharesies has got you covered.
Purchasing an investment is a breeze. Simply select your desired company or ETF, decide on the amount you wish to invest, and confirm your choice. Within moments, your portfolio will reflect your new investment.
But the flexibility doesn't stop there. Sharesies ensures you're not pigeonholed into specific stocks or funds. You have the autonomy to diversify your portfolio as you see fit, tailoring your investments to your personal preferences and financial goals.
Mastering Automated Investing with Sharesies
We just talked about the simplicity of purchasing investments with Sharesies. But this next autoinvesting feature has to be one of my favourite things about Sharesies.
That's because in today's fast-paced world, time is a luxury. 
Recognizing this, Sharesies offers an automated investing feature to customers.
Designed for both the savvy investor who values efficiency and the beginner seeking simplicity, this feature ensures your money is consistently working for you, even when you're not actively managing it.
Setting up autoinvesting with Sharesies is done in three incredibly simple steps:
Step 1: Curate Your Investment Portfolio
Start by selecting the investments you wish to include in your automated plan. Whether you're keen on a specific stock, ETF, or a mix of both, Sharesies offers a diverse range to cater to your investment preferences. Remember, diversification is key to managing risk, so consider a blend that aligns with your financial goals and risk tolerance.
Step 2: Personalize Your Investment Allocation
Once you've chosen your investments, it's time to decide how much of your funds go into each. With Sharesies, you have the flexibility to allocate specific percentages to each investment. For instance, if you're investing $100, you might choose to direct 20% to Stock X and 80% to Stock Y. This granular control ensures your funds are distributed precisely how you envision.
Step 3: Set Your Investment Frequency
The final step is determining how often you want Sharesies to execute your automated investment plan. Whether you're looking to invest weekly, fortnightly, or monthly, Sharesies caters to your schedule. Simply select your desired amount and frequency, and Sharesies takes care of the rest. It's like setting a recurring alarm, but instead of waking up, you're growing your wealth.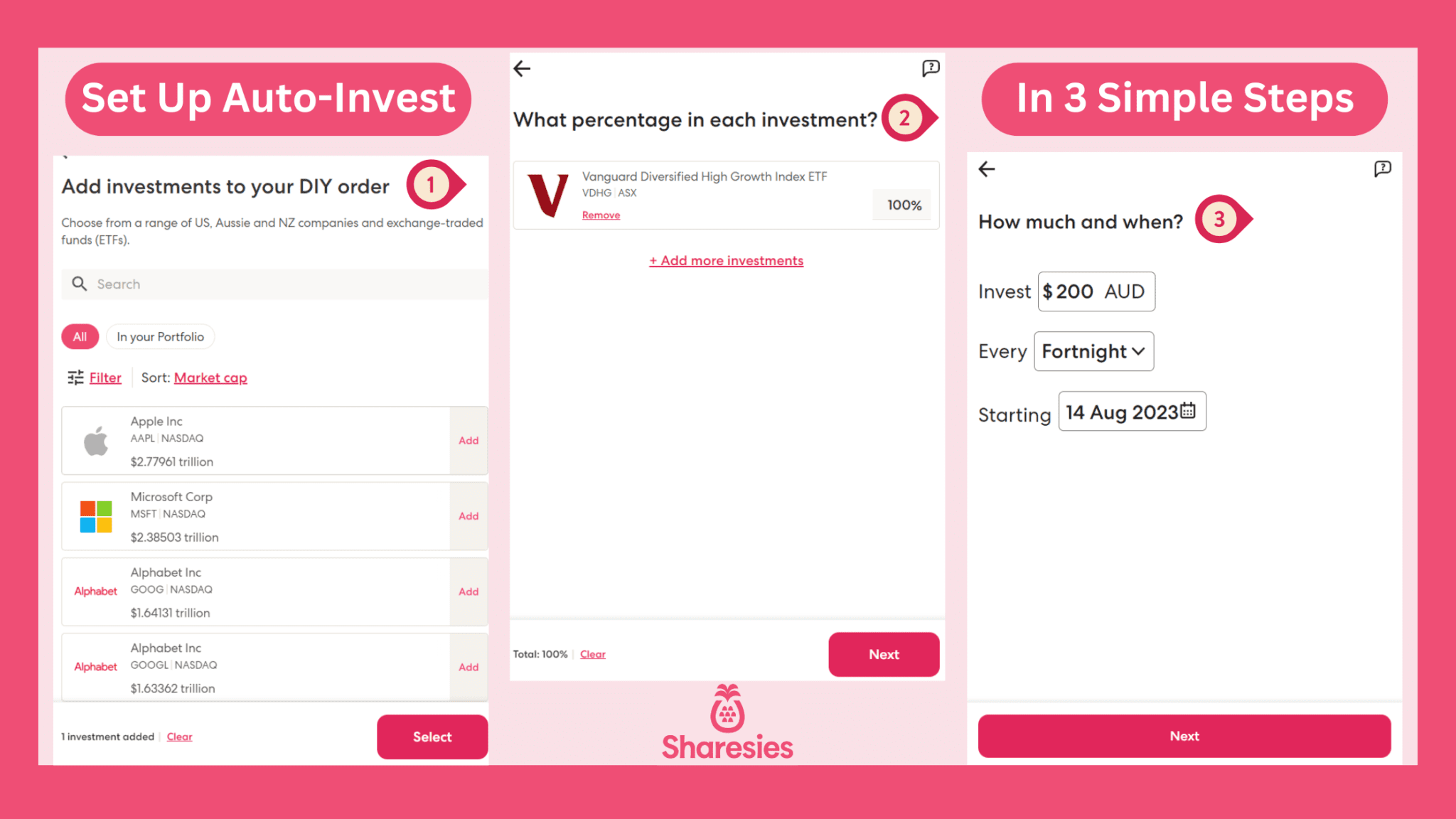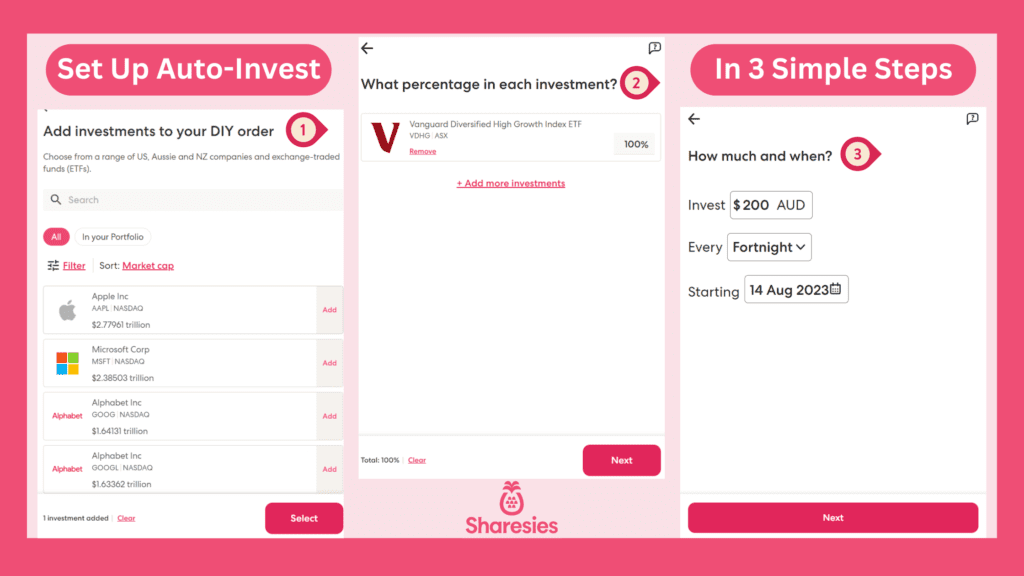 Round-ups: Supercharging Your Auto-Invest Strategy
While the auto-invest feature ensures consistent contributions to your investment portfolio, Sharesies takes it a step further with the Round-ups option. This ingenious feature seamlessly integrates with your daily spending habits. Every purchase you make is rounded up to the nearest dollar, with the difference automatically channeled into your chosen investments.
For instance, if you spend $4.50 on a coffee, Sharesies will round this up to $5, taking the extra 50 cents and investing it on your behalf. It's a subtle yet powerful way to enhance your auto-invest strategy. Over time, these seemingly insignificant amounts can accumulate, turning your routine transactions into potential growth opportunities.
Curious about how these small daily expenses can add up over time? Check out my Daily Expense Savings Calculator to see the potential long-term impact of these minor savings. With Round-ups, every cent is put to work, ensuring that every purchase, no matter how small, plays a role in your investment journey and contributes to your financial growth.
Sharesies Pricing: Pay as You Go vs. Monthly Plans
When it comes to pricing, Sharesies has a range of flexible pricing plans, giving you the flexibility to choose a plan that best suits your investment habits and goals.
Sharesies offers a "Pay as You Go" plan. This plan is tailored for those who are new to investing or those who don't plan on making frequent trades. Here's what it includes:
Flexibility: There's no monthly fee attached. You only pay when you make a transaction.
Transaction Fees: While there's no monthly commitment, each transaction comes with a 1.9% fee. 
The transaction fee applies every time you purchase new shares, but it is capped at a certain amount.
The fee caps are:

$5 USD for US shares
$6 AUD for Aussie shares
$25 NZD for NZ shares
If you use the round up feature, there is an additional 2% linked bank transfer fee, which is capped at $2 AUD.
Monthly Plans: For the Active Investor
For those who are more active in their investment journey, Sharesies offers monthly subscription plans. These plans come with a set fee, providing certain benefits:
Reduced Transaction Fees: By committing to a monthly fee, your transaction charges are significantly reduced, making it more cost-effective for regular trading.
Unlimited Trades: There's no cap on the number of trades you can make, giving you the freedom to adjust your portfolio as you see fit.
While Sharesies offers a range of monthly plans, including $5, $10, and $20 options, the core advantage remains consistent: reduced transaction fees and increased trading flexibility. The specific features and limits of each plan can be found in the pricing table below.
Pay As You Go
Make the most of capped fees
Transaction Fee Caps:
$5 USD for US shares
$6 AUD for Aussie shares
$25 NZD for NZ shares
2% linked bank transfer fee, capped at $2 AUD
Monthly Plan (Starter)
Make regular investing a part of your financial future
Transcation Fees Covered For:
Up to $500 AUD for buy and sell orders
Up to $1,000 AUD for auto-invest orders
Linked bank transfer fees covered
Monthly Plan (Novice)
Put a bit more toward building your wealth over time
Transcation Fees Covered For:
Up to $1,000 AUD of buy and sell orders
Up to $3,000 AUD of auto-invest orders
Linked bank transfer fees covered
Monthly Plan (Pro)
For investing larger amounts, with real-time info for NZ shares
Transcation Fees Covered For:
Up to $3,000 AUD of buy and sell orders
Up to $8,000 AUD of auto-invest orders
Linked bank transfer fees covered
Sharesies' Security Measures
When it comes to investing, security is paramount. Sharesies understands this and has implemented several measures to ensure that your investments and personal information are protected.
Custodian Account Structure
Sharesies employs a custodian structure for holding and safeguarding investors' assets. In this setup, a third-party entity, distinct from Sharesies, is responsible for the safekeeping of the investments. This ensures that the assets of investors are kept separate from the operational assets of Sharesies as a company.
Sharesies collaborates with a reputable financial institution to act as this custodian, adding an extra layer of security for its users. If the custodian were to face financial challenges, the investments would remain untouched. This is because the assets are ring-fenced, ensuring they can't be claimed by any creditors of the custodian.
Comparing the Custodian Model with the HIN System
The HIN (Holder Identification Number) system is a hallmark of traditional brokerage accounts, especially in Australia. When shares are purchased through a broker using the HIN system, they are registered directly under the investor's name, establishing them as the legal owner of those shares.
In contrast, Sharesies' custodian model registers the shares under the custodian's name, but they are held on behalf of the individual investor. Here are some key distinctions between the two:
Safety through Aggregation: In the custodian model, investments are pooled with those of other investors. This collective approach can lead to operational efficiencies and, in some cases, reduced costs.

Isolation from Company's Financial Issues: With Sharesies' model, if the platform were to face financial difficulties, the investments, being separate, would remain unaffected.

Direct Ownership with HIN: A HIN provides immediate legal ownership of shares. In the custodian approach, the shares are owned by the investor but held in the custodian's name.

Transfer Dynamics: Transferring or selling shares registered with a HIN can be more direct. In contrast, the custodian model might involve an intermediary step, though Sharesies ensures this process remains smooth for its users.
Data Encryption and Privacy
Sharesies employs state-of-the-art encryption techniques to safeguard your personal and financial data. All transactions and data exchanges on the platform are encrypted using advanced protocols, ensuring that your information remains confidential and secure from potential breaches.
Two-Factor Authentication (2FA)
To enhance account security, Sharesies offers two-factor authentication (2FA). This requires users to provide two forms of identification before accessing their account: something they know (password) and something they have (a code sent to a registered device). This dual-layer of security ensures that even if someone knows your password, they can't access your account without the second verification step.
The Not-So-Great Side of Sharesies
While Sharesies has revolutionized the investment platform scene with its user-friendly interface and flexible pricing plans, it's not without its drawbacks. This Sharesies review wouldn't be complete if I didn't share these dislikes with you.
While Sharesies boasts transparency, there are certain fees that might catch you off guard:
Currency Exchange Fee
A 0.6% fee is charged when you exchange money. This fee is calculated on the amount to exchange and is deducted from the amount you enter. You can exchange money anytime on the Sharesies platform or during the buy or sell process.
Management Fee
ETFs come with a management fee charged by the fund provider, not Sharesies. This fee covers the fund's management, distribution, and operational costs. It varies for each fund, so always check the fund's disclosure documents before investing.
Depositary Fees for ADRs
Investing in American depositary receipts (ADRs) may incur depositary fees charged by the depositary bank, not Sharesies. Typically, the fee is less than $0.10 USD per receipt annually. The fee can be deducted from dividends or from your Wallet balance, depending on the ADR.
Card Processing Fee
Using a debit or credit card to top up a Sharesies Wallet or buy a Sharesies Gift incurs a card processing fee. This fee is calculated on the amount you enter. The first-ever Wallet top-up by card (up to $100) has the card processing fee covered.
Linked Bank Transfer Fee
Making a payment from a linked bank incurs a 2% transfer fee on top of the amount transferred, capped at $2 AUD per transaction.
Share Transfer Fee
For shares listed on the Australian Securities Exchange (ASX), there's a $50 AUD fee for each investment transferred from your Portfolio to your SRN. Transferring shares into the Sharesies platform is free, but your broker or financial adviser might charge a fee when transferring from a nominee or custodial service.
Account Closure Fee
A $15 fee may be charged if your account is closed due to noncompliance with anti-money laundering and countering financing of terrorism (AML-CFT) obligations or other inappropriate behavior.
Custodian Model Considerations
While Sharesies employs a custodian structure to safeguard investors' assets, some traditional investors might have reservations. 
The direct ownership offered by the HIN system in traditional brokerage accounts provides a sense of transparency and control. In the custodian model, shares are registered under the custodian's name on behalf of the individual investor. 
For those accustomed to the HIN system's direct ownership, this indirect holding might be a point of adjustment and consideration. It may also complicate things when trying to withdraw and transfer your holdings outside of Sharesies.
Comparison with Other Platforms
While there are certain aspects of Sharesies that I'm not the biggest fan of, it does a great job for the market it is trying to capture. Sharesies shines brightly for the following reasons:
User Experience: In an industry where many platforms can be intimidating with their complex designs, Sharesies is a game-changer. It's meticulously crafted to be user-friendly, prioritizing usability and simplicity.
Empowering New Investors: Sharesies' core mission is to democratize the world of investments. It's not just about providing a platform; it's about nurturing a new generation of investors. With its focus on education and user-centric design, Sharesies is dedicated to helping new investors learn the ropes, making the investment journey less daunting and more accessible.
Affordability: Traditional brokers often set high barriers to entry, which can deter many potential investors. Sharesies breaks these barriers with its fractional investing approach, ensuring everyone, regardless of their financial standing, can start their investment journey.
Diverse Investment Options: Sharesies offers a doorway to a vast investment universe. With access to over 8,400 companies and ETFs from Australia, the US, and New Zealand, its range is more extensive than many competitors.
While I personally lean towards other platforms for their lower fees, it's undeniable that Sharesies excels in many other areas. It's not just about investing; it's about opening doors, especially for those new to the investment world. The platform's commitment to simplicity, education, and userability makes it a top choice for those embarking on their investment journey.
Making the Most of Sharesies Promo Codes
Who doesn't appreciate a great deal? Especially when it comes to investing, every bit counts. 
So before you open your account, a handy hint is to search the web for any promos the platform may be offering. Sharesies often rolls out enticing offers, and by searching for "Sharesies Australia promo code" or "Sharesies promo code Australia," you can stumble upon some fantastic deals.
Frequently
Asked Questions
Sharesies Review Score
User Experience

Affordibility

Investment Options

Educational Resources

Automated Investing

Security Measures

Pricing Plans
Sharesies Reviewed
Sharesies has undeniably carved a niche for itself in the investment landscape, especially in Australia. Its innovative approach to democratizing investments has made the vast realm of over 8,400 companies and ETFs across Australia, the US, and New Zealand accessible to all. While there are certain aspects that might raise eyebrows, such as the fees, it's essential to view Sharesies in its entirety. It's not just about the cost—it's about the experience. The platform is meticulously designed to be intuitive and user-friendly, making it especially appealing to beginners. The ease of navigation, combined with the platform's commitment to transparency and education, overshadows its minor drawbacks. In the grand scheme of things, Sharesies offers more than just an investment platform; it offers a holistic investment experience. So, while it might not be the cheapest option on the block, its unparalleled user experience and accessibility make it a top contender, especially for those just starting their investment journey.