Namecheap – A Reliable Domain Registrar That Has Been Around For Decades!
Welcome to my review of Namecheap, a company that is one of the most affordable and reliable domain name registrars out there! In this review, I am going to explain to you why Namecheap has paved itself as one of the most reliable companies to manage all of your domain needs.  I will explore who the company is, what it does, as well as the Pros and Cons I have identified. Although Namecheap does offer web hosting services, I won't be covering this in my Review. The reason? Well, as I have already explained in great detail in a previous post of mine (read it here), I can't stress enough the benefit of separating out your domain registrar from your web host. And since Namecheap is such a great option to handle all of your domain needs, I recommend using Namecheap as your domain registrar and instead pairing them with a web hosting service elsewhere (such as Bluehost or HostPapa)! 
Disclosure: My website/blog is reader-supported and may contain affiliate links. If you decide to make a purchase through links on my site, I may earn an affiliate commission, at no extra cost to you. You can read my full affiliate disclosure here.
Whether you're just starting out and looking to get your own website up and running, or even if you're an experienced website owner looking to swap to a reliable domain service, Namecheap could be the perfect solution to manage your domain needs. 
Founded in 2000, Namecheap has become one of the most well-known and trusted domain registrars with over two decades of experience. Managing domain names is Namecheap's key service provision, which is evidently clear when you look at how many domain names are under this company's management. Today, Namecheap is responsible for managing over 15 million domain names, which is absolutely incredible!
Although Namecheap's key service is offering competitive-priced domains, they also have expanded over the years and provide a range of services, including web hosting and other applications that can improve the performance of your site.
The Purpose Of A Domain Registrar
When you build a website, your goal is to get visitors to your site. To do this, you need a unique domain name that connects your website to your web host's servers. This is the purpose of a domain registrar – giving you ownership over your domain so no one else in the world can claim ownership of your website. 
While price is definitely a major factor, there are a range of other factors to consider when choosing your domain registrar. Some of these factors include security, customer support, and account management simplicity. When you purchase a domain through Namecheap, you can guarantee all these factors will come standard with your purchase – and most importantly, at a very competitive price.
No matter what domain registration you sign up for with Namecheap, all purchased domain names come with free privacy protection, domain name security, around-the-clock support, full DNS access, and a detailed knowledge base in case there's something you need further clarification on. 
Want to learn more about domain registrars and web hosts? Check out this post for a comprehensive guide.
When it comes to pricing, in order to keep your domain up and running with Namecheap, you need to renew your registration periodically. This is the case regardless of who you end up choosing to be your domain registrar. Namecheap however, has some of the most competitive renewal rates in the industry.

At the moment, Namecheap is running a massive discount offer. You can get your .com domain name ridiculously cheap for prices starting at just $6.98 US and that covers a full year's subscription!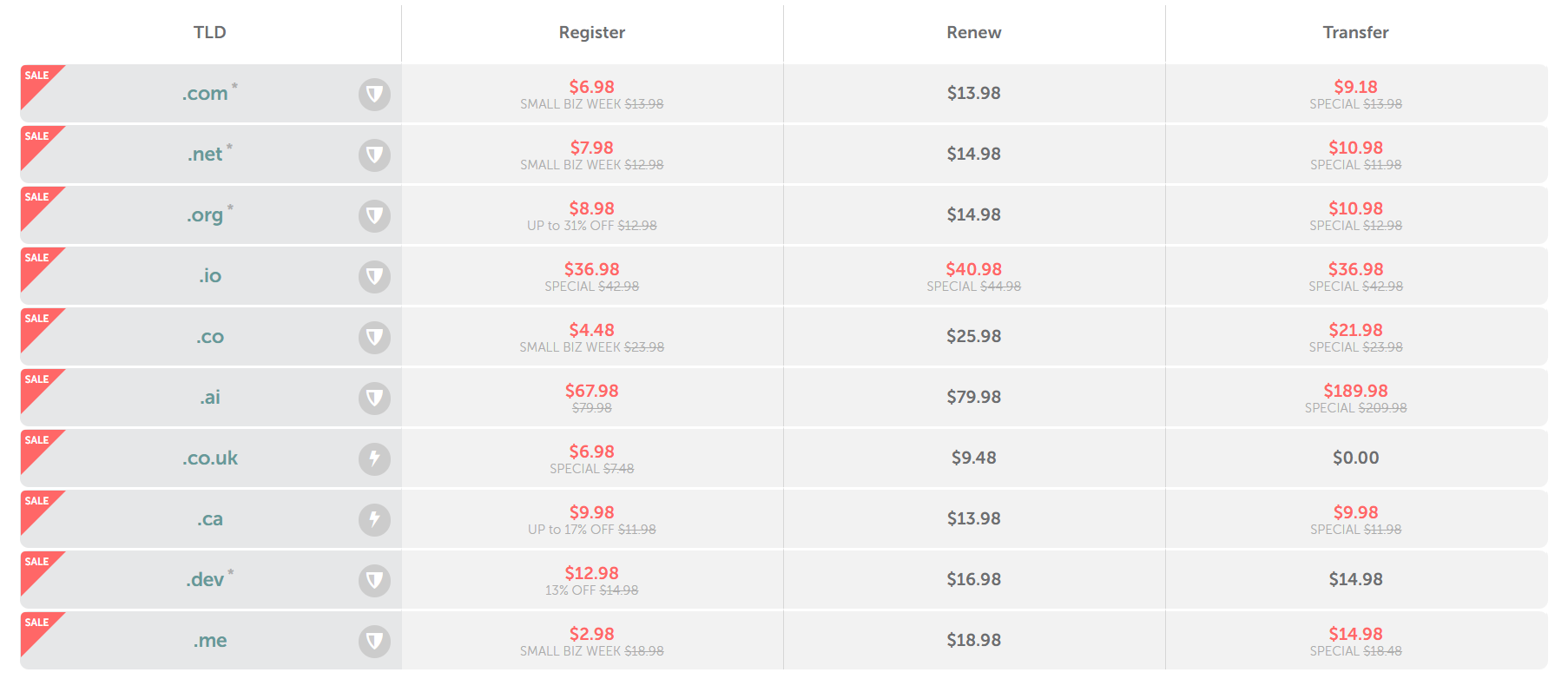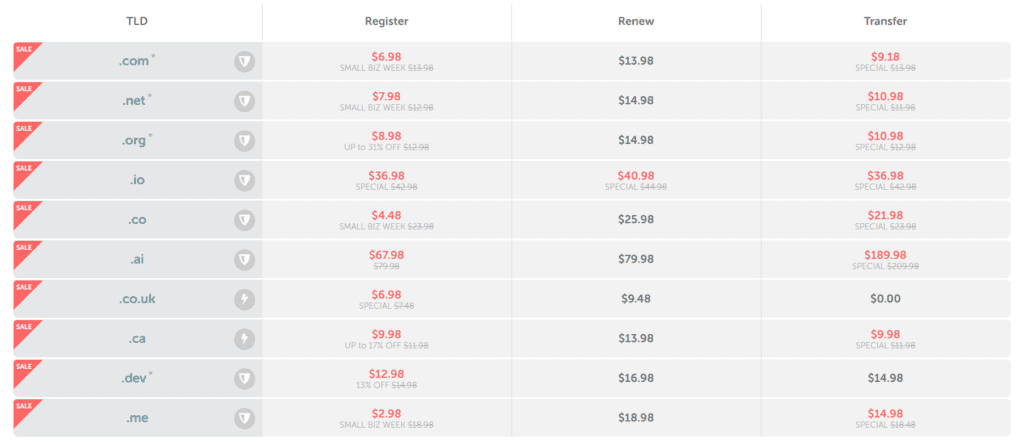 Namecheap offer a range of domain extension options to meet your website needs. Some of the most popular extensions, which Namecheap offers, are listed below. But there are so many more, so whatever extension name you need, you can just about guarantee that Namecheap will offer it!
After your initial subscription period ends, you will have to renew your domain for slightly higher costs – but don't worry, as I have already mentioned, you have to do this with any domain registrar. What's great about Namecheap is that the renewal costs are very reasonable. If you were to buy a domain with a .com extension name, then after your initial subscription, the annual renewal cost is $13.98. Although this is quite a lot more than the $6.98 introductory offer, it still beats the majority of the other domain registrars out there, which often charge substantially more than $13.98 to renew your domain name!
As part of Namecheap's services, you can also transfer your domain to another service. I'm not sure why you would want to given how great their services are, but it's nice to know you have that option too. The pricing to transfer your domain to another service does vary, which depends on the specific domain extension you own.
One of Namecheap's core focus is its dedication to privacy and site security for its customers. Namecheap incorporates an abundance of security features, including two-factor authentication, personal privacy, browsing protection and the ability to safely unblock content using its VPN service. Not all domain registrars put this much effort into ensuring the safety and privacy of their customers, so I am glad Namecheap has it as one of their top priorities.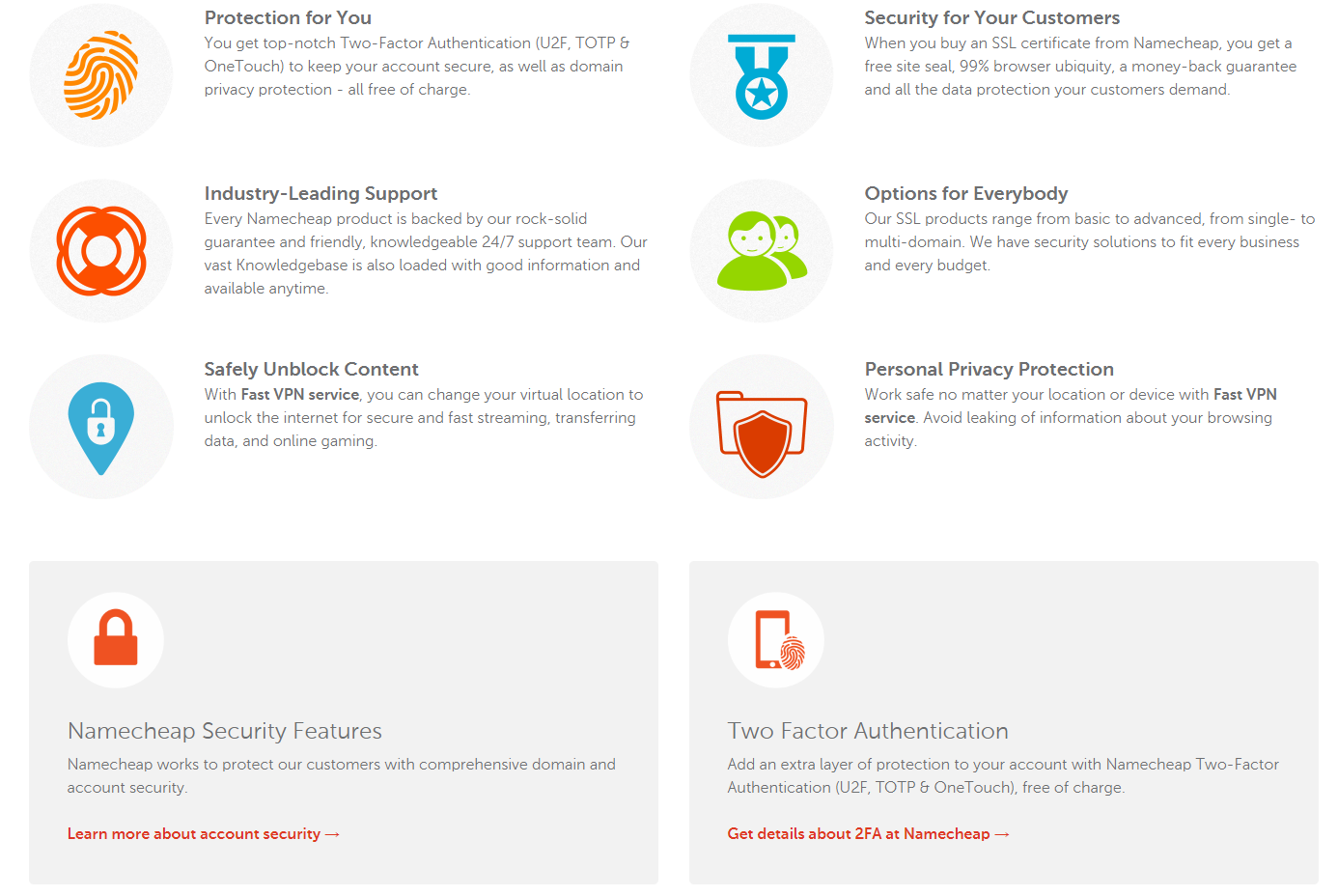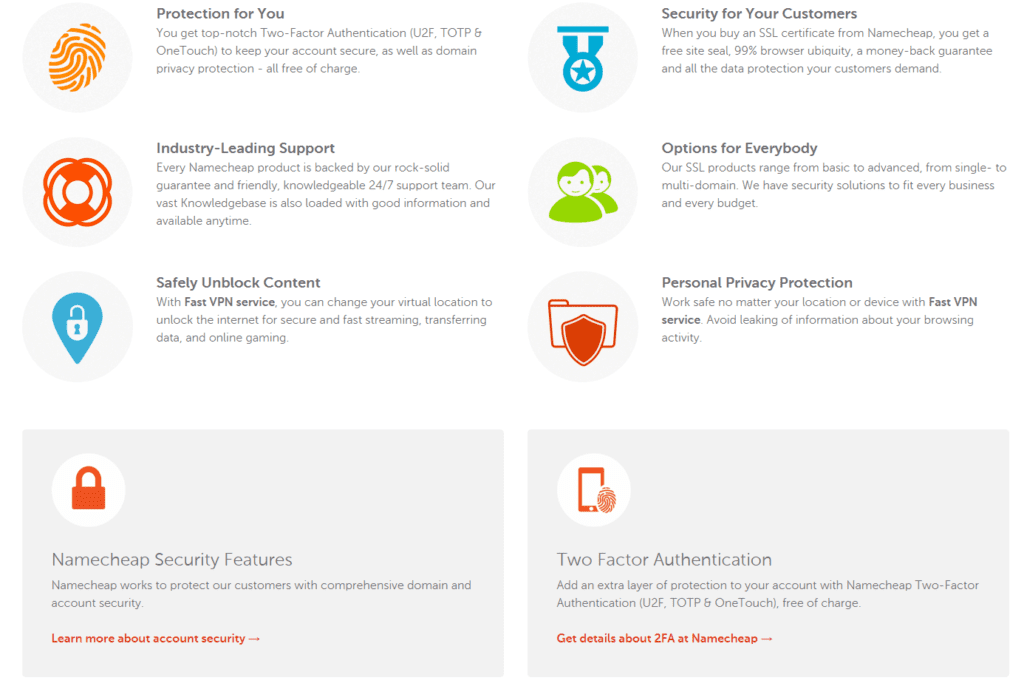 Most notably, however, is the free Whois protection & private domain registration services offered by Namecheap. All domain subscriptions come with free lifetime protection on your domain. So why is this important?
When you register a domain, you are required to provide and maintain up-to-date contact information for a public database known as the Whois database. This is required by ICANN and helps to regulate domain registration and ownership. Usually, this is accessible to anyone, including marketing firms, spammers, and online fraudsters. However, at Namecheap, because they offer free lifetime domain privacy protection, .any details you share with the company will remain entirely protected. This service hides your contact details and replaces your real email address with a unique anonymous email address that can be rotated as often as you choose. This is a fabulous feature that protects your privacy.


Now looking beyond their service offerings, Namecheap has a knowledgeable support team that can assist you with any questions or issues you may encounter.
Specifically, there are a couple of ways you can reach out to Namecheap's customer support team. Firstly, through the use of the 24/7 live chat option available on the website and secondly, through submitting a ticket that will be worked on in the background by the support team. Personally, the live chat option is my preferred method since it is so easy to use and you get a rapid-fast response. I've tested it out myself, all it takes is clicking on the "Chat with a Live Person" which appears on every page of their website. From my experience, I've never had to wait for more than a couple of minutes to get a response to my question/enquiry. I have found the customer support agents to be very prompt and helpful, I had no issues getting the information I needed. But don't just take my word for it, Namecheap is renowned for its customer service, and I can't think of a better way to prove it than by referencing the huge number of positive reviews that Namecheap has received. 
Beyond their user-friendly panel, Namecheap also offers an array of how-to guides, tutorials and a detailed knowledge base, all contained in their help center. This is the perfect place to seek more information on any question you may have if you want to first solve it before contacting the support team directly. 
Overall, customer support is one of the best qualities of Namecheap in my opinion.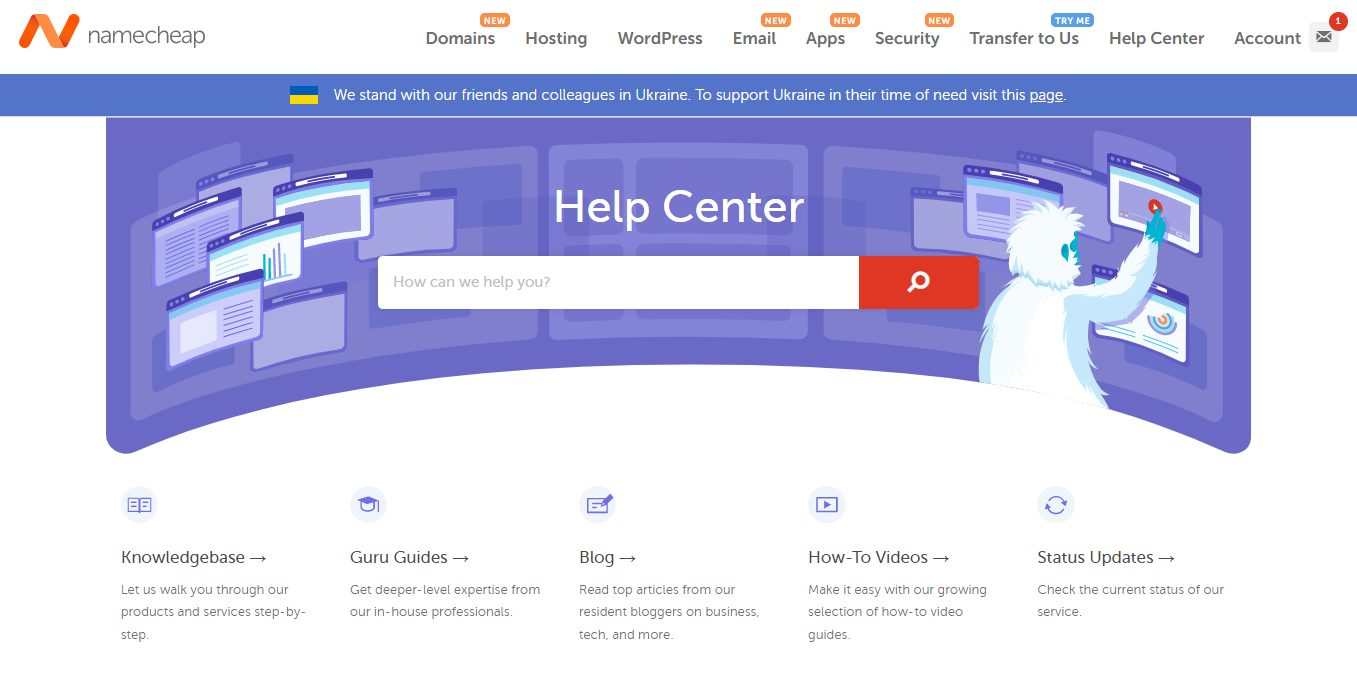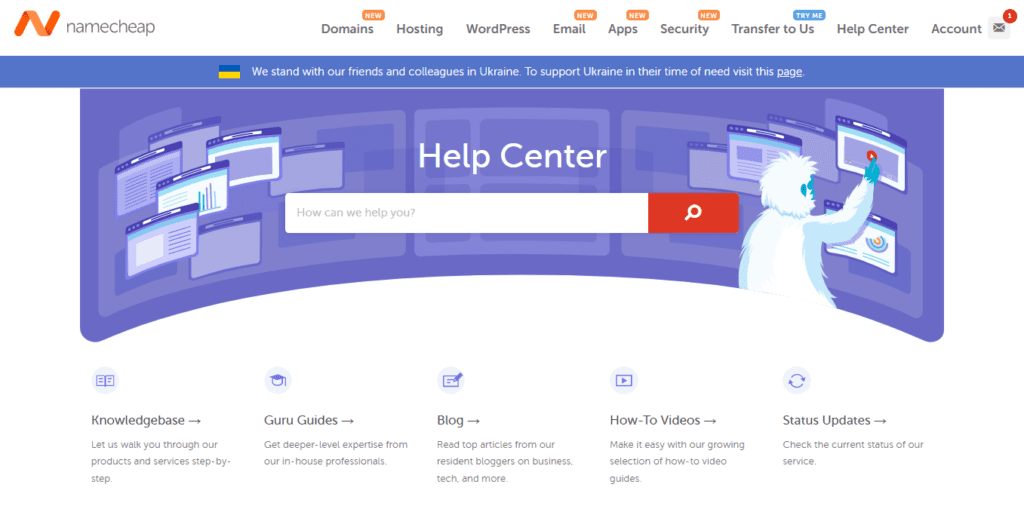 Seemless Account Management
Now, perhaps the greatest factor I love about Namecheap is how it makes managing your account so straightforward. To summarize, Namecheap is effortless to use and manage all of your domain needs. 
Once you have created your account with Namecheap, you will have access to their native account management dashboard (see the below image). This dashboard is stupid-simple, making absolutely everything you need to manage your domain accessible and straightforward. This is where you manage your account, such as if you need to update nameservers to point your DNS to your web host – all of that can be done in just a few clicks through this dashboard.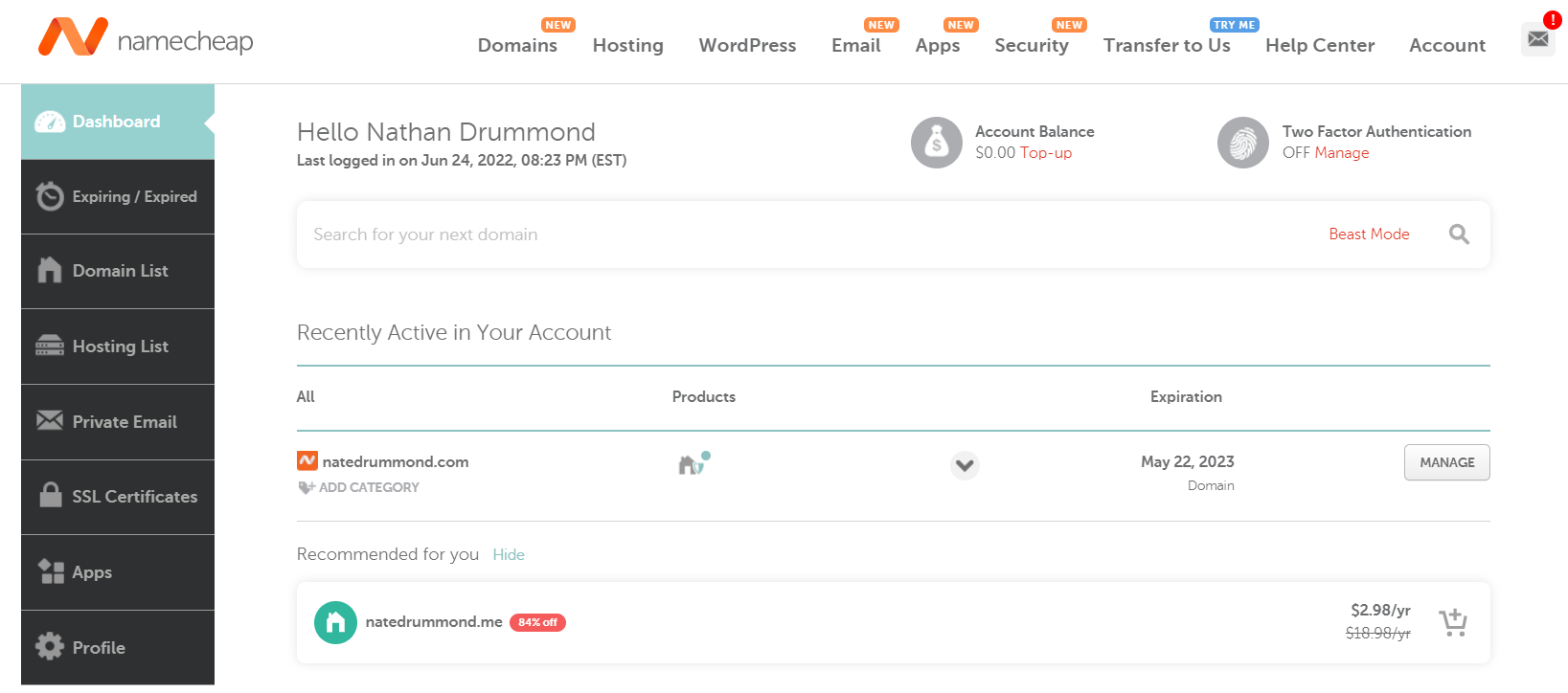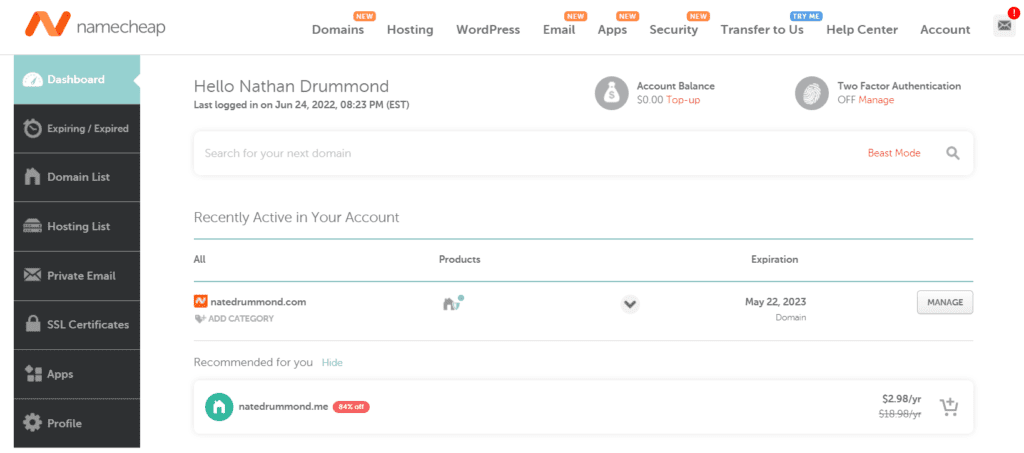 Beyond the core domain services that Namecheap offer, they also have a bunch of apps and add-ons that can be purchased separately to provide you with a seamless and customized user experience. Not a lot of other domain registrars will offer addons and extras that help you beyond the process of registering a domain and purchasing a hosting plan. So it is nice to have the option of adding on these services if you so wish to! In fact, a lot of the addons and extras are free, otherwise those that aren't are very affordable.
A great extra provided by Namecheap is their domain name generator service. This is a great way to come up with a domain name that will maximize traffic coming to your site. This tool helps you to discover thousands of available website names that you can make use of. The tool is entirely free to use and can be used as many times as you like, so definitely check it out if you're struggling to come up with a name!


Another great tool that you will have access to if you choose Namecheap is their free logo maker. This tool is perfect if you're creating your own brand and don't yet have a logo. It enables you to create a unique range of logo options and colour schemes to get your brand up and running, all entirely free! All you have to do is input your name, pick an icon and enter a slogan if desired – and then the tool steps you through the rest. At the end of the process, the tool will output hundreds of options including different text options, orientations, positionings and colour schemes. I've provided an example below of me using it myself, it literally only takes about a minute. And any logo you create can be used for whatever it is you desire.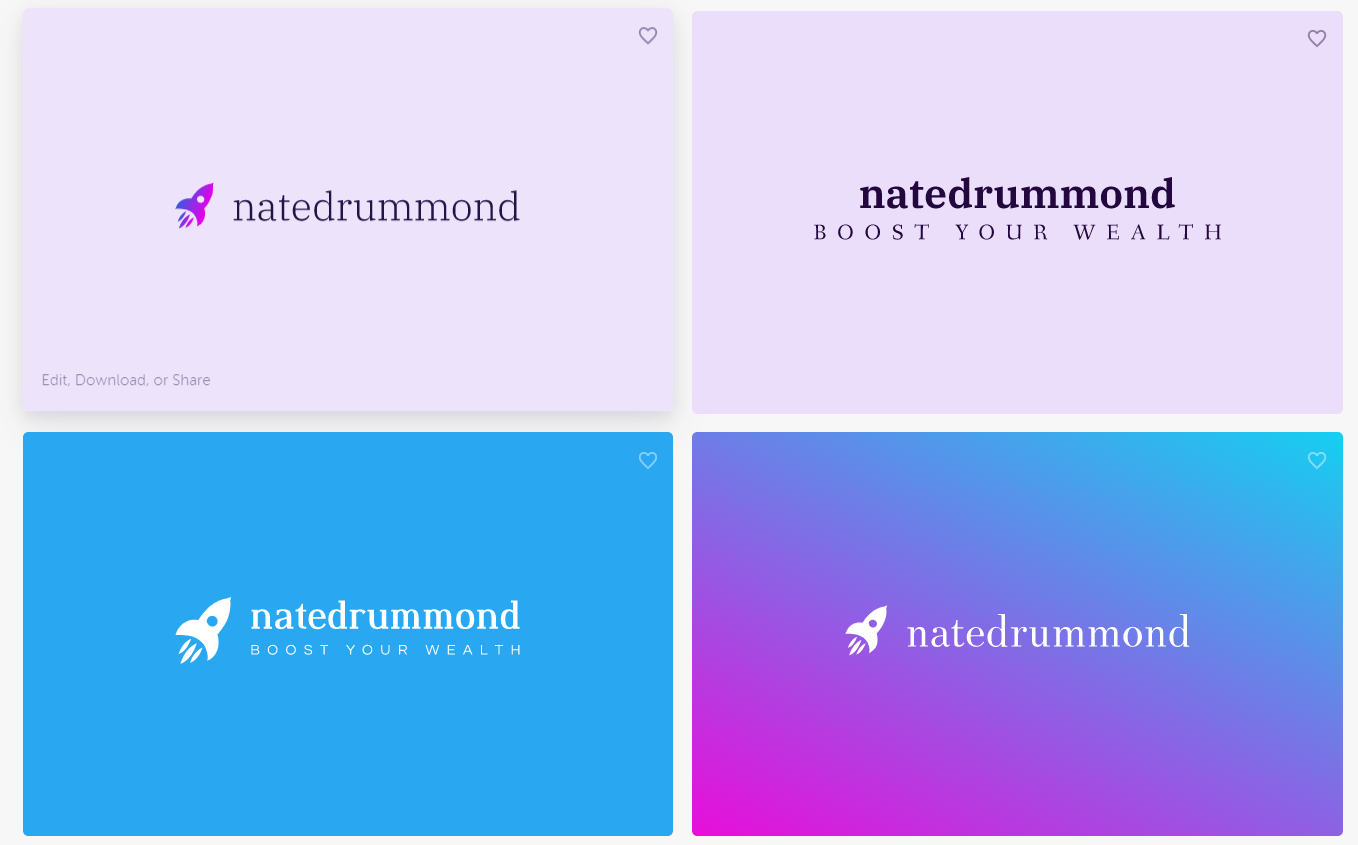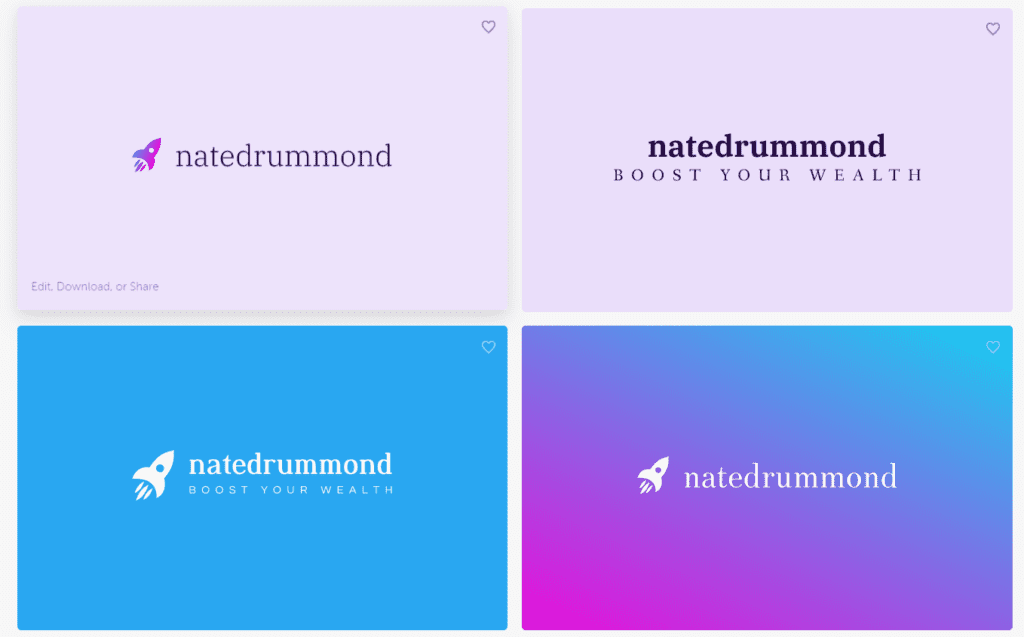 How To Buy Your Domain Name
Buying your domain name with Namecheap is incredibly easy. All you need to do is click on this link to be directed to the Namecheap website. From here you simply type in the name of the domain you're wanting to purchase and click enter. When you do so, Namecheap website will check the eligibility of the domain you've entered to make sure it isn't already taken. If it hasn't been taken, then you'll be able to add it to your cart and complete the purchase – that's it!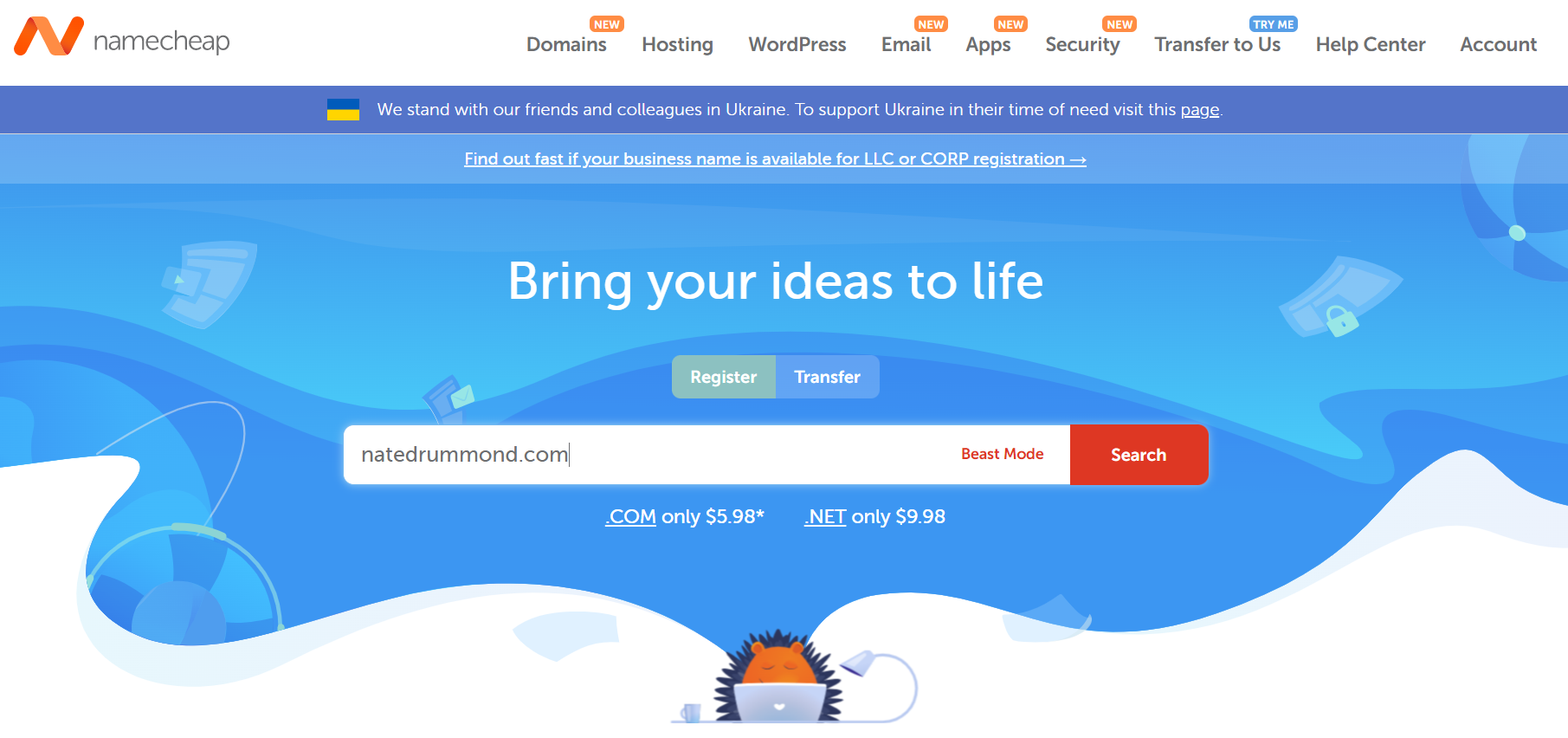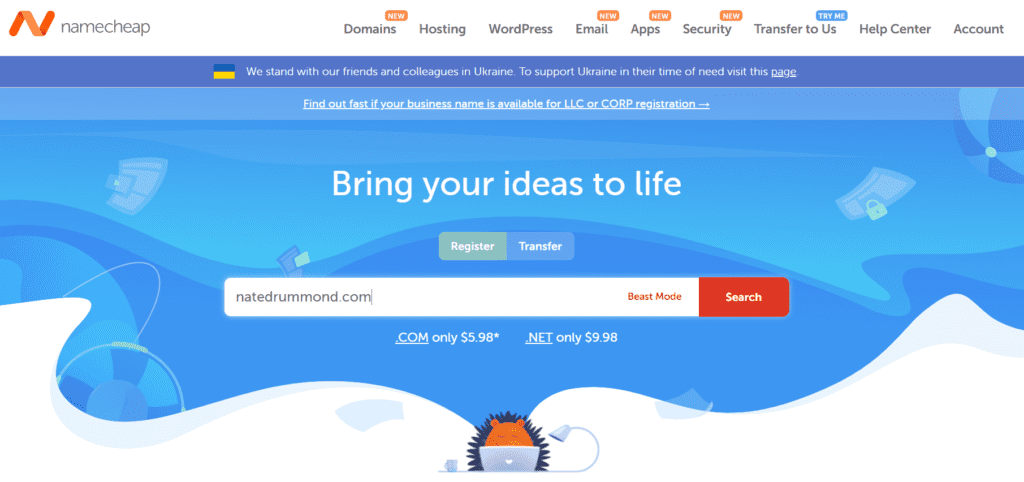 In this review, I've covered all the key areas to look out for when choosing your domain registrar. Putting it all together, we can see that Namecheap ticks all the important boxes. Ultimately, if you're looking for a trusted domain registrar that has your best interests at heart, then this is the domain registrar for you. I therefore have no hesitation recommending this company as the number 1 domain registrar to choose. Remember, this review covered the domain registrar services offered by Namecheap, and not their web host services. 
If you really are ready to create your own site, then you need both a domain registrar and web host. You now have the information to make an informed decision about your domain registrar needs (Namecheap), but you will still need a web host. For this reason, the next and final section of this review will provide you with the relevant information to learn why it is important to separate your domain registrar from your web host, as well as highlight the web host companies I recommend. 
If you're ready to create your own website, purchasing your domain name is not the only thing you need to do. You will also need a web host. Although you can buy your domain name and web host from the same company, I recommend you don't do this. Why? Well, it's much safer to separate your domain registrar away from your web host. I've covered this in detail in a previous post of mine, so definitely have a read of it before you purchase your web host subscription!
The post can be found here: how to set up your own website.
Once you're ready to choose your web host, you'll have to decide which company. Personally, out of the many many options out there, I've narrowed down the selection to the two options below. One of which is for those who want long-lasting reliability, and the other option is for those where budget is your key decision driver!
Bluehost –

Number one option for new WordPress sites and long-term reliability

HostPapa–

A budget-friendly option for your initial subscription (but be wary of the high renewal rates)
Currently, I'm with HostPapa because it was cheaper, but I will be switching to Bluehost once it gets closer to my subscription renewal date.
Thanks for your support – have a great day!
 -Nate
Namecheap Review Summarized
Pricing

Security

Customer Service

Acount Management

Addons/Extras
Final Verdict
My final verdict from my Namecheap review is that Namecheap offers unrivalled domain name prices, with competitive renewal rates once your initial registration period ends. This alone is one of the main reasons why Namecheap is my top pick for the best domain registrars out there. But on top of the great prices, Namecheap has so much more to offer. With all the added security features that come free with all domain subscription options, you can rest easy knowing your domain is being securely managed. I also love the addons and extras that you get by owning an account with Namecheap. The tools to help you choose your domain name and even create your own logo are such a nice addition, especially since it's completely free! But overall, what really stands out to me is the simplicity of managing your account – whether you need to update your DNS, or transfer your domain, all of this is incredibly easy and logical to complete within your Namecheap account. You do also have the option to buy web hosting services with Namecheap, but as you know, I recommend keeping that separate from your domain registrar. So overall, if you're looking for a domain registrar, you really can't beat Namecheap.