Swyftx Uncovered: In-Depth Analysis of Australia's Top Cryptocurrency Exchange
Are you searching for a reliable platform to buy, sell, and store your crypto assets? Swyftx may be the best Australian crypto exchange for trading, so let's explore if it's the perfect match for your needs!
This comprehensive review aims to equip you with all the essential information required to make an informed decision. My meticulous research into Swyftx covers every crucial aspect, saving you time and effort. Read on for an exhaustive examination of fees, security measures, supported assets, unique features, and much more that Swyftx has to offer.
Disclosure: My website/blog is reader-supported and may contain affiliate links. If you decide to make a purchase through links on my site, I may earn an affiliate commission, at no extra cost to you. You can read my full affiliate disclosure here.
Swyftx Overview: Unveiling Australia's Top Cryptocurrency Exchange
Swyftx, an Australian-owned and operated centralized cryptocurrency exchange, has experienced remarkable growth since its launch in 2018. It quickly established itself as one of the most trusted and popular crypto exchanges in the country.
Boasting support for over 320+ cryptocurrencies, Swyftx offers users the flexibility to buy, swap, and sell a wide array of crypto assets – from market leaders like Bitcoin and Ethereum to niche altcoins. The platform accommodates Australian Dollar (AUD) trading pairs, allowing seamless transactions with any of the listed cryptocurrencies.
Depositing AUD into your Swyftx account is typically a near-instant process, ensuring a smooth trading experience.
Supported Cryptocurrencies on Swyftx: A Diverse Trading Portfolio
As the best Australian cryptocurrency exchange for trading, Swyftx ensures users have access to a wide range of cryptocurrencies and comprehensive trading tools.
As previously highlighted, Swyftx offers an impressive array of over 320+ digital assets for users to buy, trade, and sell. The platform features not only market leaders like Bitcoin and Ethereum, typically found on most exchanges, but also provides access to a vast selection of altcoins for those with diverse trading interests.
For newcomers to the cryptocurrency landscape, established coins such as BTC and ETH may be the initial focus. However, as you delve deeper into the world of digital assets and broaden your knowledge, the exploration of altcoins could become increasingly appealing. Swyftx's extensive support for a wide range of altcoins ensures you won't need to search for another platform when expanding your trading portfolio. You can continue to benefit from Swyftx's user-friendly interface and comprehensive trading options as your interests grow.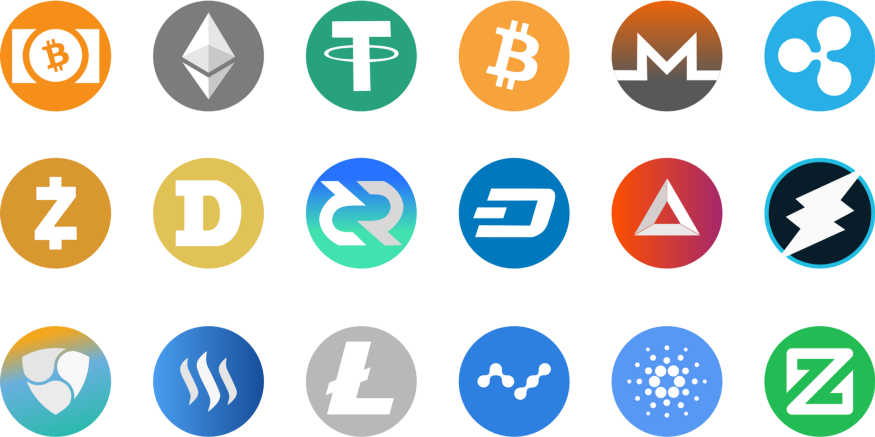 Deposits & Withdrawals: How to Fund Your Swyftx Account
Swyftx supports Australian Dollar (AUD) deposits, allowing you to instantly purchase any of the 300+ cryptocurrencies available on the exchange. This feature is particularly beneficial for Australian traders, eliminating the need to exchange AUD for USD and avoiding unnecessary foreign currency conversion fees.
AUD deposits into your Swyftx account are usually quick, with processing times varying based on the chosen deposit method. The approximate times for each method are:
Osko and POLi: Near-instant
PayID: Up to 1 business day
Credit card: ~30 minutes
To deposit AUD from your bank account, simply follow the instructions provided by Swyftx, including their BSB, account number, and a personal reference number. Initiating the transfer is as straightforward as any other bank transaction—just input the required details and the desired funding amount.
For fiat currency (AUD) withdrawals from your Swyftx account, you can request up to $50,000 per day. These withdrawals must be made via bank transfer to your verified bank account. The process may take up to 48 hours, though it's often completed much sooner.
Depositing crypto assets from external wallets or other exchanges into your Swyftx account is a breeze. Simply access the 'Deposit' tab in the Swyftx interface, search for the desired cryptocurrency, and follow the straightforward instructions provided.
Withdrawing assets to personal wallets or other exchanges is equally easy, using Swyftx's 'Withdraw' tab.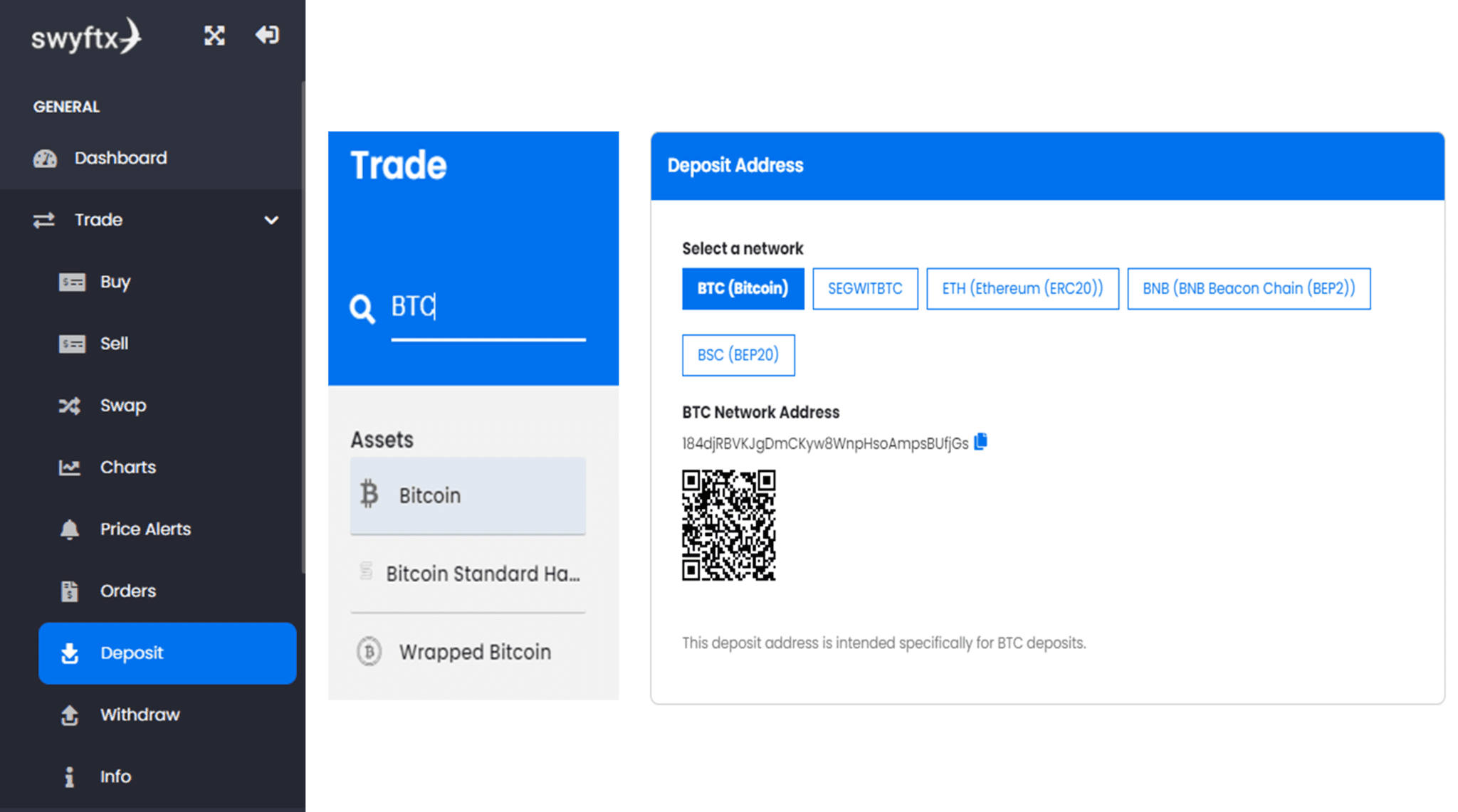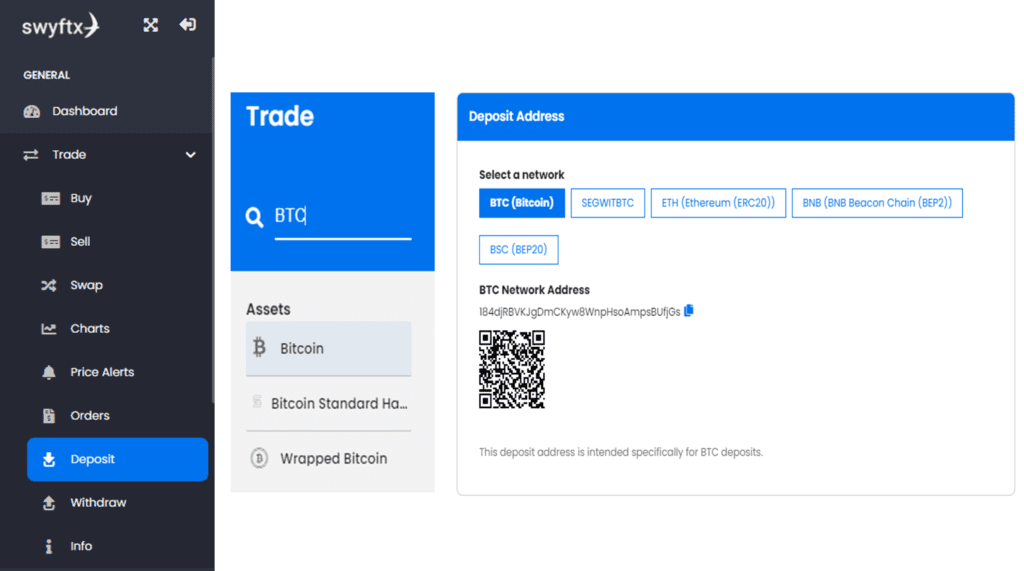 The transaction times for cryptocurrency deposits and withdrawals depend on the specific asset and network conditions. However, in most cases, crypto transfers from your Swyftx account are completed within a few minutes, ensuring a smooth and efficient trading experience.
Swyftx Fees: Trading, Deposits, and Withdrawals
Swyftx has a straightforward fee structure and are very transparent to their users about it. They offer a very competitive fee structure on all trades.
There is a 0.6% trading fee for all buy and sell orders executed by Swyftx, although discounts are possible for high volume trades. Although there are other exchanges that may offer a lower trading fee, the devil is in the detail. 
Often, exchanges will claim to have zero or very low percentage trading fees, and instead make their profit from hidden fees associated with something known as the 'market spread'. 
When you buy or sell cryptocurrency, the market spread is the difference between the current market price for that asset and the price you buy or sell that asset for, often represented as a percentage. Basically, it tells us the difference in price at which people are willing to sell an asset and the price that other people are willing to buy that same asset for. You should therefore pay especially careful attention to market spread since it represents an often-overlooked cost incurred when executing trades. 
Swyftx employs trading algorithms that are optimised to decrease market spreads, which has enabled the exchange to achieve some of the lowest spreads of any Australian platform, which means it is one of the best places to buy crypto in Australia.
As Swyftx puts it, "spreads are arguably more important than fees", which is why the 0.6% trading fee is offset by Swyftx's technology that has been recorded to have achieved spreads as low as 0.45%. This is quite impressive, given that the spreads achieved by competitor exchanges can often be up to 4-5%.
Swyftx does not charge any fees whatsoever for AUD fiat deposits and withdrawals. Similarly for cryptocurrency deposits and withdrawals, Swyftx does not charge any additional fees, and only standard network fees apply but these are unavoidable no matter what exchange you go with. 
Whether you are a beginner starting out or an experienced crypto trader, Swyftx is designed to provide an intuitive and seamless trading experience. The platform is available on desktop or via the Swyftx mobile App, both of which are designed with a clean and simple interface. On both versions, a primary navigational panel brings together all of Swyftx's features and functionality into a single, easy to use setting. This includes the asset list, wallet, charts, trade windows, profile settings and access to the deposit/withdraw features, amongst others. The whole platform experience is modern and fully customisable so that it can be tailored to suit your needs.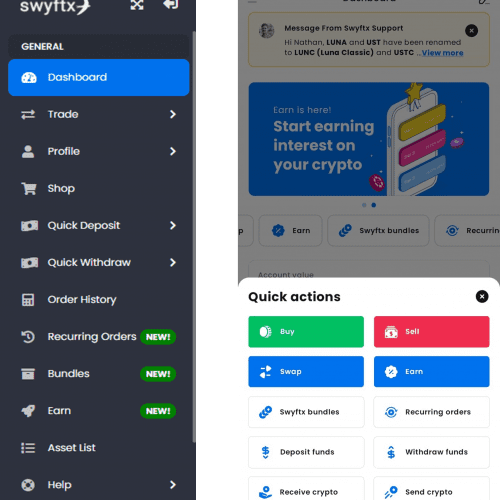 Swyftx Earn: Staking and Passive Income Opportunities
One paticular feature that I really applaud and use frequently myself is called Swyftx Earn. This feature allows you to earn money simply by holding cryptocurrencies in your Swyftx trading wallet. In fact, this is why I think Swyftx is the top cryptocurrency exchange in Australia for trading.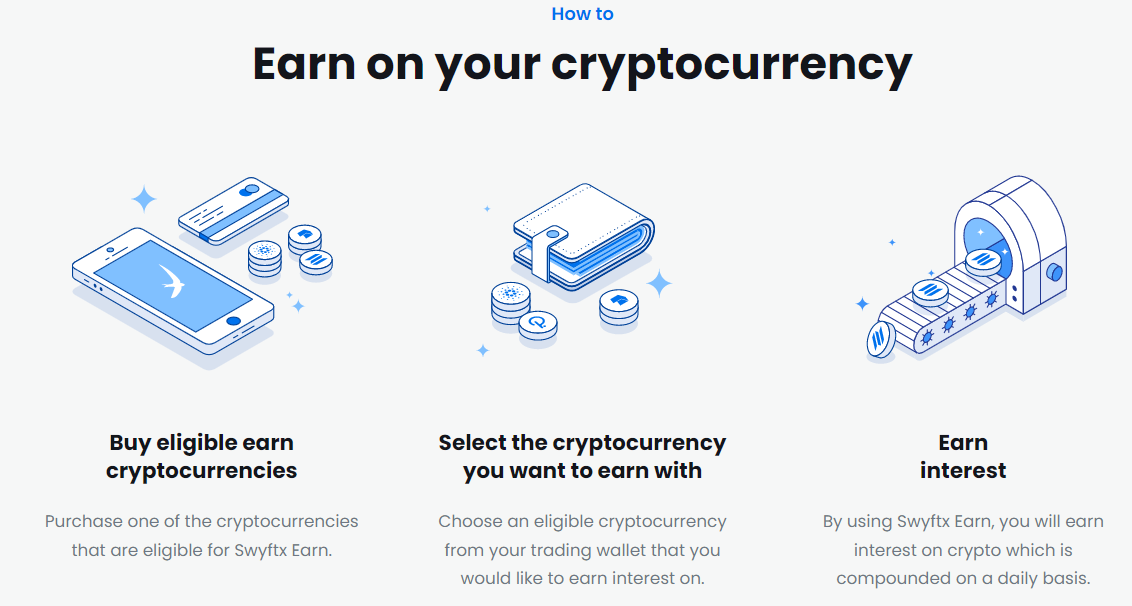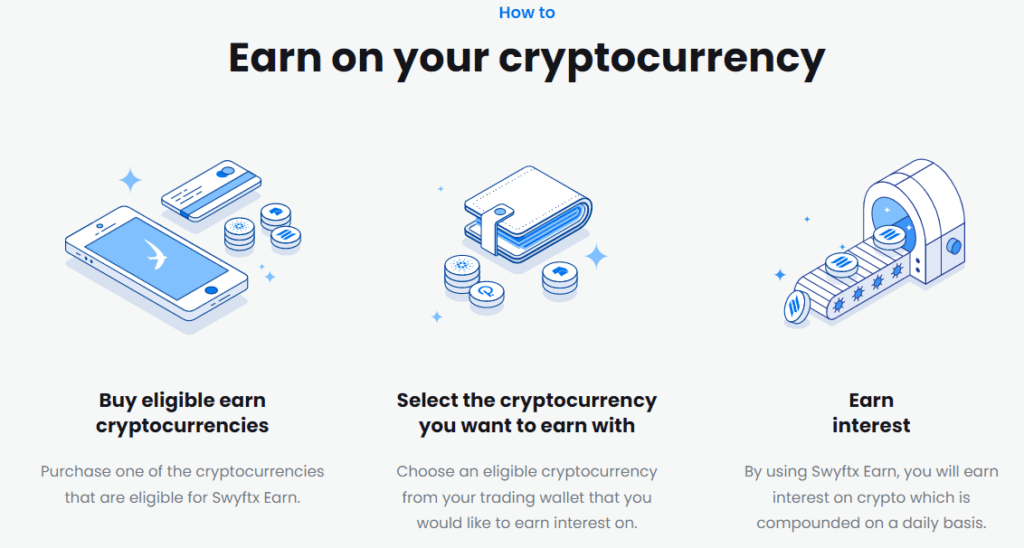 Earn is a Swyftx feature that allows you to earn interest on your crypto including stablecoins and top market cap coins such as Bitcoin and Ethereum. Under the Earn feature, you loan out your cryptocurrency to Swyftx in exchange for interest that is paid at the rate advertised for that cryptocurrency on the platform. There are no fees associated with Swyftx Earn and interest earned is automatically added to your total balance of that cryptocurrency each day. You can claim your interest instantly on a particular cryptocurrency by withdrawing some, or all, of that cryptocurrency from your 'Earn' wallet back to your trading wallet. This is a great way to achieve a high-interest rate on your savings, since Swyftx offers a sizeable 5.33% interest for holding AUD in your wallet. To me personally, this sounds a lot better than holding my money in a bank savings account that only offers me a 1 – 1.5% interest rate.
For each coin participating in the Earn program, Swyftx offers a tiered model of interest, with interest rates decreasing at each incremental tier. 
As of writing, these are the existing Annual Percentage Yields (APY) for the various coins participating in the Swyftx earn program. Refer to the official Swyftx website for the most up-to-date rates.
True AUD (TUAD) –

Up to 5.33%

Solana (Sol) –

Up to 6.18%

Polkadot (DOT) –

Up to 12.74%

Cardano (ADA) –

Up to 4.6%

Polygon (MATIC) –

Up to 12.74%

Axie Infinity (AXS) –

Up to 101.24%

Kava (KAVA) –

Up to 25.85%

Kusama (KSM) –

Up to 19.71%

Cosmos (ATOM) –

Up to 11.4%

Tezos (XTZ) –

Up to 3.97%
Algorand (ALGO) –

Up to 8.32%

Flow (FLOW) –

Up to 6.18%

TRON (TRX) –

Up to 5.97%

Harmony (ONE) –

Up to 8.32%

Elron eGold (EGLD) –

Up to 12.74%

Zilliqa (ZIL) –

Up to 13.88%

USD Tether (USDT) –

Up to 6.71%

USD Coin (USDC) –

Up to 6.71%

Bitcoin (BTC) –

Up to 5.12%

Ethereum (ETH) –

Up to 5.12%
One thing to note about the Swyftx Earn program is that there is an 'Earn' cap. This Earn cap relates to an upper limit on the total amount of each cryptocurrency that can be loaned out under the Earn program. Once the Earn cap is reached, customers will no longer be able to opt-in to Earn with that particular cryptocurrency. This means that you could miss out on reaping the benefits of the Earn program if the upper limit of the Earn cap has already been reached. 
Security Measures: How Safe Is This Prestigious Crypto Exchange For Trading?
Swyftx's commitment to security and regulation makes it the best place to buy crypto in Australia, ensuring user assets are well-protected.
SWYFTX Pty Ltd. is a fully licenced and registered Australian private company regulated by the governing body Australian Transaction Reports and Analysis Centre (AUSTRAC). This is the body responsible for minimizing the risk of criminal activity and enforcing financial laws. Although Swyftx is a licensed and regulated trading platform under AUSTRAC, crypto assets held on Swyftx are uninsured unless you specifically obtain private insurance to insure them. This means that in the event of an unlikely loss or loss of utility value (if the exchange was hacked and funds stolen for example), then there may be no public insurer or private insurance arranged by Swyftx, to offer recourse to you.
Swyftx has however implemented multiple layers of security to protect your account from being breached. Two Factor Authentication (2FA) can be elected as a requirement to login and access your account, as well as to confirm withdrawals and any other account detail changes. Swyftx also implements a range of other security practices, including:
Using JWT tokens & session expiry;
Checking for breached passwords on other websites;
Consulting with third party security auditors;
Undergoing external penetration testing; and
Implementing a least privileges security model internally
Compliant with strict AML/KYC obligations
From what I have researched, I couldn't find any history of past hacks or compromises relating to the Swyftx platform, which commends the robust security measures that are in place.
Customer Support: Evaluating Swyftx's Service Quality
Swyftx has a responsive team working around the clock to respond to and assist with all customer enquiries. Swyftx has live chat support which is extremely useful, having personally used it myself on multiple occasions. You are automatically connected to a Bot, which provides you with some generic answers to common questions that you may have. But if you still need to talk to a person, you will be connected to live support within a minute or two.  The support team is very knowledgeable and patient, which is especially great for beginners or newcomers entering the world of crypto.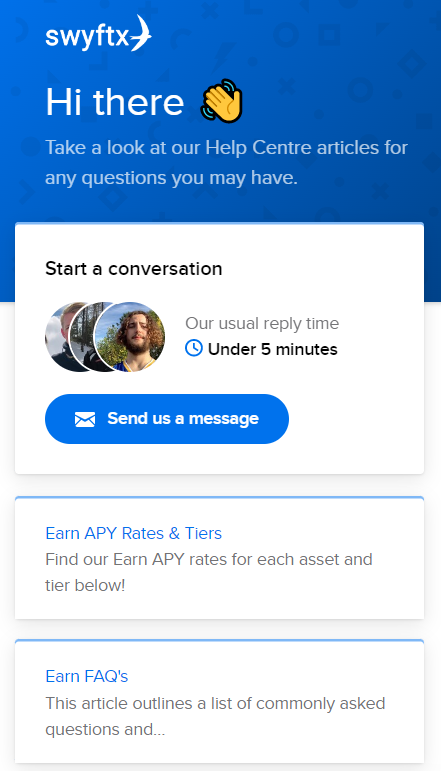 Swyftx has managed to rack up a whopping ~3800 reviews on Trust Pilot, with an average rating of 4.5/5 starts. If you glance through the reviews, you will find that most highlight just how helpful and responsive the customer service team was. 
Additional Features: Exclusive Swyftx Trading Tools
When it comes to finding the best Australian crypto exchange for trading, Swyftx stands out with its exceptional features and ease of use.
Swyftx sets itself apart as the top cryptocurrency exchange in Australia thanks to bonus features like the 'Recurring Orders' option. This feature allows you to automate your cryptocurrency investments by scheduling recurring AUD deposits from your bank account into Swyftx. You can choose to invest in a single cryptocurrency or group multiple cryptocurrencies together for regular purchases. Once you've made your selection, Swyftx provides a reference number for your recurring bank deposit. With each deposit, Swyftx automatically buys the chosen cryptocurrencies based on the provided reference. This approach is ideal for Dollar Cost Averaging (DCA) in highly volatile markets.
Another notable feature offered by Swyftx is the 'Bundle' option. Bundles enable you to buy a collection of cryptocurrency assets in a single transaction, reducing the total number of transactions needed. For instance, Swyftx offers the Top 5 by Market Cap Bundle, which includes Bitcoin, Ethereum, Binance Coin, Solana, and Cardano, each with a 20% allocation. Purchasing $100 worth of this bundle provides you with $20 of each coin (20% of $100 is $20), streamlining the process with just one transaction instead of five separate ones if done manually.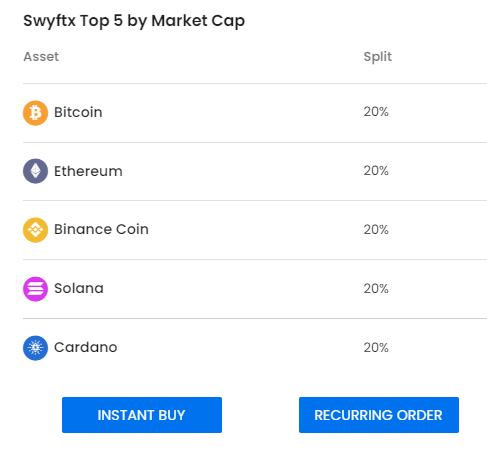 Swyftx Pros & Cons: Weighing the Benefits and Drawbacks
Final Verdict: Is Swyftx the Best Australian Crypto Exchange For Trading?
Swyftx Review - Results Summary
Supported Cryptocurrencies

Deposits/withdrawals

Swyftx Fees

Ease Of Use

Staking - Swyftx Earn

Security

Customer Support

Additional Features
Swyftx Review - Results Summary
In conclusion, whether you're a seasoned trader or a newcomer, Swyftx stands out as the best Australian crypto exchange for trading, offering a feature-rich platform tailored to help you maximize profits. With support for over 300+ cryptocurrencies, staking options for select coins, and exceptional customer service, Swyftx caters to the needs of Australian traders seeking an intuitive, user-friendly platform. Its competitive edge lies in the low fee structure and optimized spread, setting it apart from rival exchanges. If this comprehensive review has piqued your interest in Swyftx, don't hesitate to open an account and embark on your crypto trading journey today!