HostPapa – Is It The Right Web Host For You?
Are you looking for a user-friendly and reliable web host to start your own blog or website? HostPapa is one of the most affordable web hosting services around today, but is it the right fit for you? This review will balance a number of features and factors to provide you with all the information you need to know to answer that question. I've taken a lot of things into consideration whilst researching HostPapa for this review so you don't have to! Continue reading for a deep dive and comprehensive look into the costs, performance, features, and much more that HostPapa offers. 
Disclosure: My website/blog is reader-supported and may contain affiliate links. If you decide to make a purchase through links on my site, I may earn an affiliate commission, at no extra cost to you. You can read my full affiliate disclosure here.
HostPapa is a web host service for beginners and small businesses and is based in Canada. It is a privately-owned company that hosts in excess of 500,000 sites.
Before we dive into the review, there is one bone I have to pick with this web host provider. And that is its name! It makes me cringe! But then again, I cringe whenver I hear anyone over the age of 7 refer to their dad as 'daddy', so my dislike of the name 'HostPapa' may just be a personal bias haha. Regardless of the name, there's no denying that the service offers an impressive range of features at very competitive prices. 
So the question you should be asking is whether or not HostPapa is the right fit for your needs. To help you decide on this, I've conducted thorough research and assessed the platform on a number of its features, including its bang-for-a-buck, performance and userability.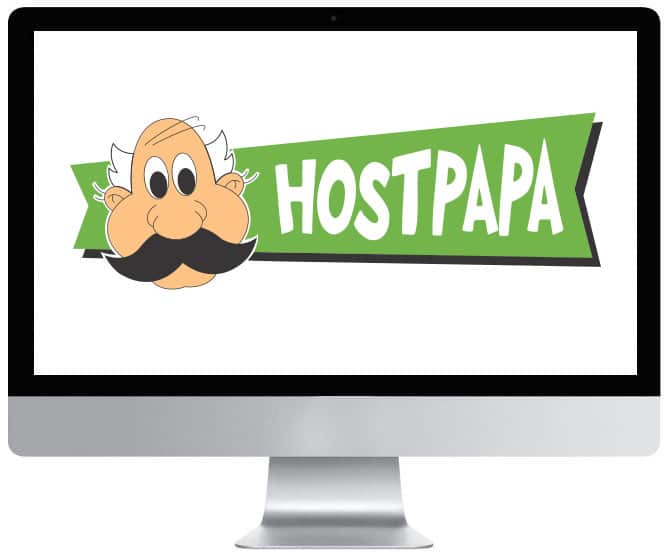 HostPapa's web hosting plans provide you with a number of features that you have access to after signing up. These include, but are not limited to:
Free website transfer

Cloudflare CDN

One-on-one training

Free SSL via Let's Encrypt

cPanel Control Panel

Starter Website Builder

24/7 support

30-day money back guarantee
A great feature that is also provided, especially for beginners looking to create their first ever website, is the free domain that they offer when you take out a subscription. This means you can get started immediately with creating a website that has a professional domain name. This perk is not offered by all web hosting services, which reiterates how HostPapa really is trying to service beginners and those new to web hosting. 
Your storage needs are easily satisfied through the SSD space provided by HostPapa (100 GB for the started plan, and unlimited amounts for the business and business pro plans). This all helps to contribute towards lightning-fast page loads. This, paired with the unmetered bandwitdth (provided with all plans) that ensures your website traffic won't be limited by traffic or content uploads, contributes towards a seamless website experience that will keep all your visitors happy.
Building a website can often seem intimidating and complex. I know personally, I always thought it would be too complex and difficult to grasp. But the great thing about HostPapa is that they understand this, and realise how vital it is to make site building as easy and accessible for newcomers as possible. And that is reflected in the design of their UI/interface, which is extremely user-friendly.
All the important services and information you will need are contained in one easy-to-navigate dashboard, where you will be able to access your billing, support, domains, cPanel and addon services. It may be a very basic dashboard but in terms of being effective and intuitive, it's all there – which is exactly what we want, especially as new users.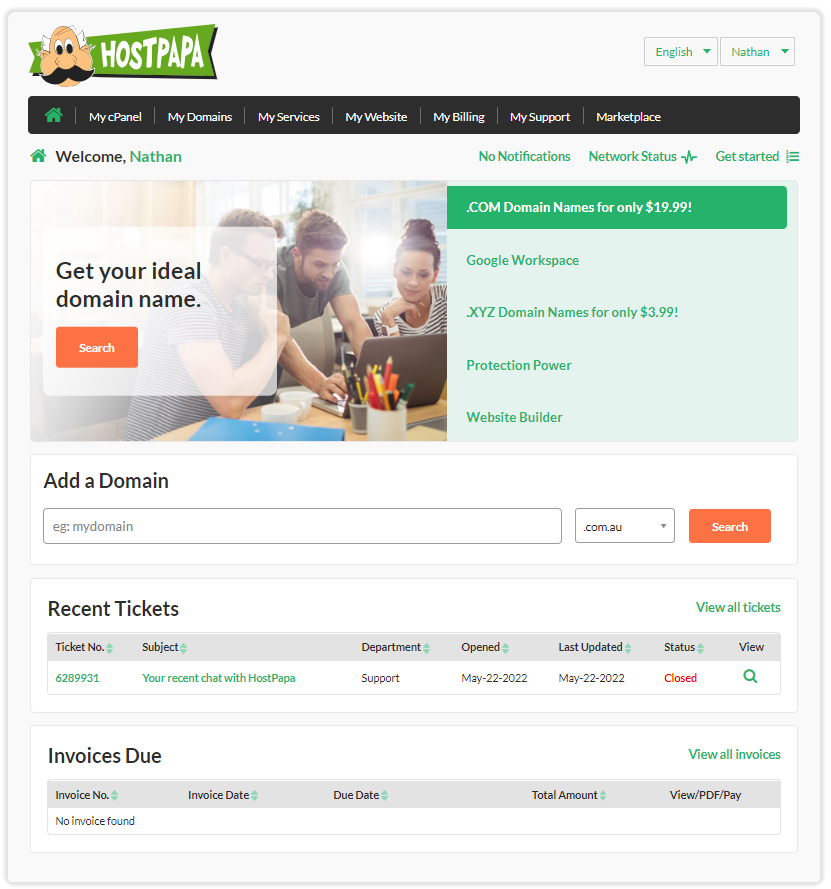 To really make it easier for users, HostPapa uses an industry-leading web based control panel known as 'cPanel'. This is an important feature, since it is your one-stop-shop for installing WordPress and creating your website. It also provides a very user-friendly interface to create email accounts, check your websites resource usage, analyze web and visitor statistics and essentially all other web hosting needs that you can think off.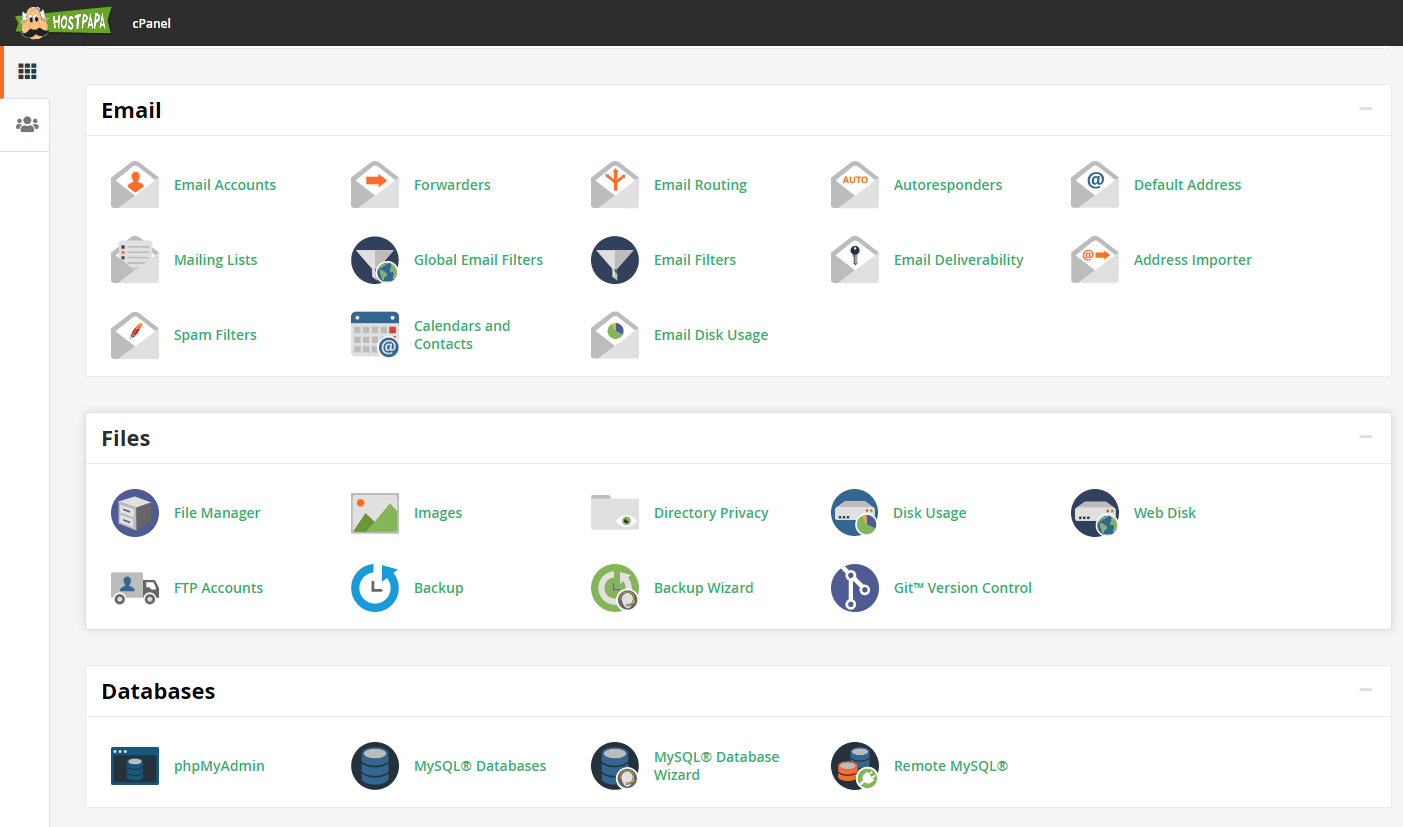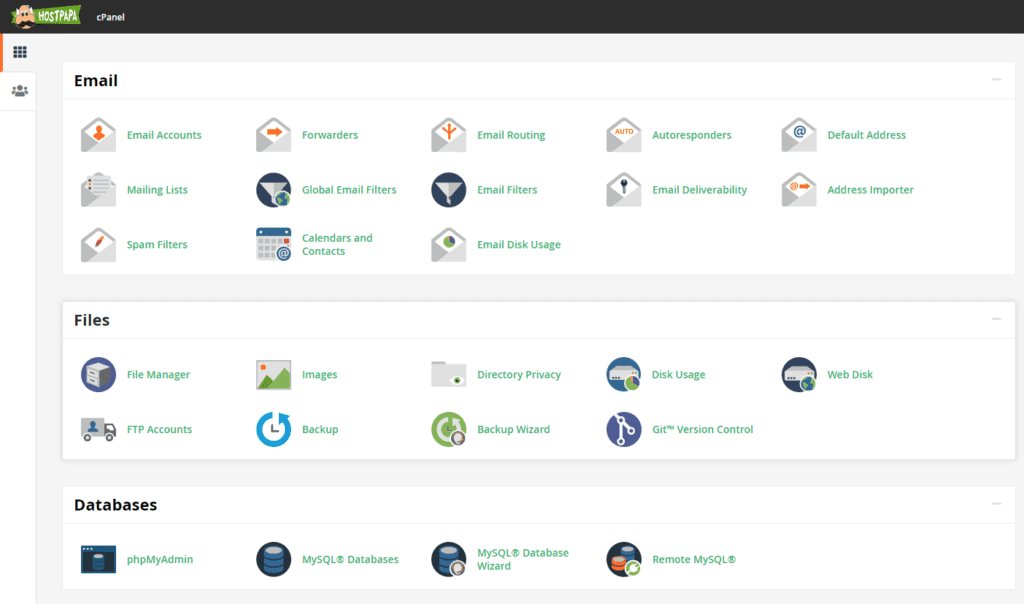 In terms of the customer service HostPapa offers, this web host provider goes above and beyond! In fact, when you take out a plan with HostPapa, their trained team of highly skilled and efficient staff provides you with a complimentary 30-minute personalized lesson in web hosting. This allows you to ask any questions you may have as they step you through getting everything you need set up.
Beyond this fabulous 30-minute training that is provided, their 24/7 customer service means you will always have a fast response for any pressing questions or concerns you may have, whether it be a technical question or for account support.
These are just some of the services the customer support team offers to all of its customers:
Live Chat: Talk to a real person about any issues you might be having using HostPapa's 24/7 live chat feature
Support Tickets. Submit support tickets, or check the status of existing ones, all through your HostPapa dashboard.
Video Tutorials. If you're more of a visual person and prefer to follow along to video tutorials, this is the place for you. Learn how to use every feature HostPapa offers and watch step-by-step tutorial content.
Extensive Knowledge Base: Find all the resources, guides and tutorials you need in the knowledge-based self-help center. With many categories including Hosting, Email, and Domains, you can be sure to find answers to whatever it is you're looking for.
An important characteristic of web hosting is 'uptime' . This essentially means the amount of time your website stays up and running. Of course, achieving a 100% uptime is the ideal case, but in reality, this is not possible. This is because, at some point in time, there needs to be scheduled maintenance. Beyond this, in the world of the internet, not everything always goes as planned. Whether it be overuse of resources, spikes in traffic or even a security breach, at some point in time servers will undoubtfully go down from time to time.
With that said, HostPapa is so confident in its abilities that they guarantee 99.9% uptime to its customers. That's a superb number and offers great reliability, which is perfect if you're planning to create a blog or website that you want to remain active and undisturbed. 
HostPapa doesn't just talk the talk, but they also walk the walk. If at any point in the first 30 days of sign up, you are unsatisfied or displeased with their services, you can get a full refund if you decide to cancel to your account.
HostPapa have an eco-friendly mindset and are dedicated to minimizing their environmental impact. As part of their vision, Hostpapa promote the use of renewable energy sources, including wind and solar energy to offest their power consumption as a result of operating the hardware and infrastructure to host millions of users and their sites. 
Not only is HostPapa reducing their own carbon footprint, but they hope to set the scene for other web host providers to jump on board and join the trend of using clean renewable energy whilst still providing a high quality service. 
UPDATE SINCE POSTING (JUL 25 2022): it appears I may have stumbled upon a loophole within HostPapa's pricing model. It seems that if you purchase your services from the Australian (.com.au) website, you will be charged in the Australian AUD currency. However, what's surprising is that the dollar amount doesn't change. I've added the two images below to clarify what I mean by this. Basically, a 36-month subscription on hostpapa.com website (The US version of HostPapa) will cost you $192.10 USD, however the exact same subscription costs you $192.10 AUD on the hostpapa.com.au website. That's equal to ~$130 USD, which is approximately a $62 USD savings! I was so surprised I had to contact HostPapa directly about this, and this is the response I got:
"There's no difference in our services in terms of features, resources, etc regardless of the brand (hostpapa.com, hostpapa.com.au, etc). The only main difference would be the currency, since it depends on which brand the account is created, for example, if the order was placed through hostpapa.com.au website, the account will be in AUD currency".
Now I'm not sure if I am just going crazy, but perhaps one of my friends from the US could try this out for potential cost savings? It's worth a shot if you ask me, saving $62 US would be a steal! Let me know in the comments if you have any success trying to purchase through the Australian website for this discounted price! I'll leave a link below to the .com.au version of HostPapa so you can try it out!
Click here to access the Australian .com.au HostPapa website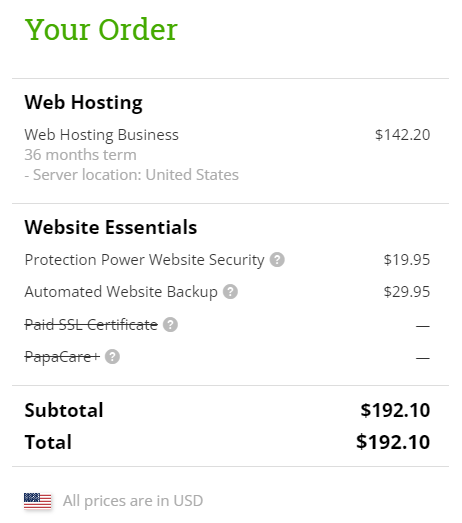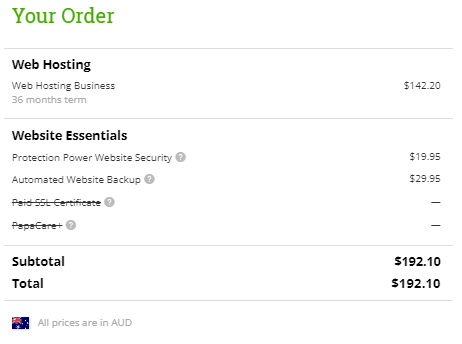 ORIGINAL POST: In terms of pricing, there are three plan options that you can select from. These include Starter, Business and Business Pro plans.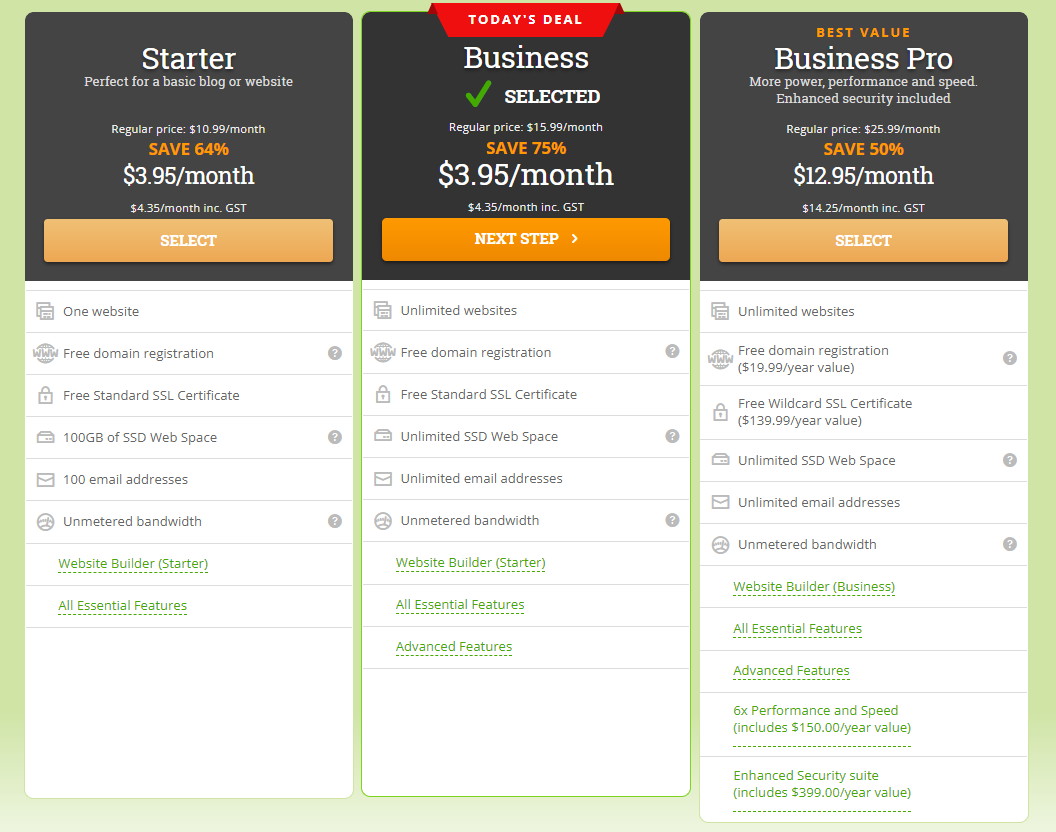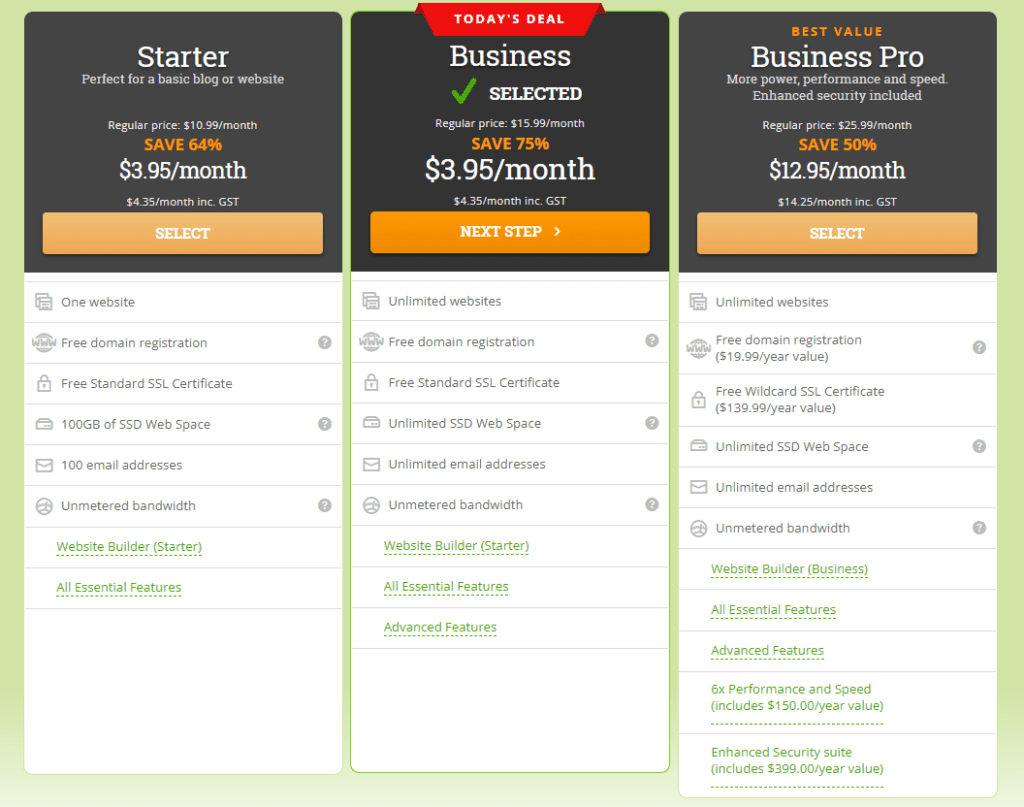 Although the default pricing (as per the image above) are presented as:
Starter: $3.95 /month

Business: $3.95 /month

Business Pro: $12.95 /month
You do not actually have the option to pay per month. Instead, each plan is offered as either a 12-month, 24-month or 36-month subscription. The default plan that is presented represents the effective pricing per month if you take out a 36 month (3-year) subscription. Although 3-years may seem like a long time to take out a subscription,  this is quite common amongst hosting providers. Basically, the longer the plan, the less you spend per month. I've summarised the pricing for each plan option below, showing the price you would pay if you were to take out a 12-month, 24-month or 36-month subscription for each of the starter, buisness and business pro plans. 
Important to note: these prices include a discount that you will receive if you sign up using my affiliate link! So if you are thinking of signing up with HostPapa, don't forget to do so through my link to get your discount 🙂 
Sign up using this link to receive 83% off web hosting with HostPapa
As you can see, the pricing of the start and business plans are exactly the same for your initial setup subscription. But once your initial subscription period ends (either 12-month, 24-month or 36-month depending on your selection), the pricing reverts to the standard pricing, which is $10.99 p/month for the starter plan, and $15.99 p/month for the business plan – so that's something to keep in mind. 
For me personally, it makes more sense to take out the business plan for all the added features since it is exactly the same cost up front. And then once it does come time to renewing, you can always reconsider whether you want to continue with the business plan or change.
HostPapa additionally operates a Managed WordPress Hosting service, that comes with a range of better features, such as dedicated maintenance and improved security for your site. These plans are much more expensive, however, with the Launch plan beginning at $19.95 and the Pro level reaching to $69.95! Personally, I've been using the standard web hosting services and that has served me fine, so I think the managed WordPress Hosting service is a bit of overkill, but that's just my opinion!
Keeping your website secure and safe is a no brainer – no one wants their site prone to hacks. This is an area that HostPapa does well across the board. Even the basic starter plan comes with quite sophisticated security features that not a lot of other web hosts can offer for the same price range as HostPapa.
These security features include a firewall, anti-spam protection, intrusion detection as well as constant website monitoring. 
However, if you want to take your security one  step further, the business pro plan includes a dedicated IP address, automated backups and domain privacy protection. But of course, this comes with the extra cost of the business pro plan. Each of these security features can also be added as AddOns to the other plans at a cost as well. 
It is also worth noting that if you are using WordPress to create your website, there are countless plugins that can be downloaded for free that offer a variety of security features. But paticularly for beginners, HostPapa removes a huge burden by implementing security layers even in the most basic of plans they offer.
Although HostPapa has a lot going on for it, there are some things to look out for which I personally am not the biggest fan of.
The key area I don't like about HostPapa is the hidden renewal costs. I've already briefly mentioned this in the pricing section, but after your initial signup subscription period ends, the pricing reverts back to the standard cost, which is significantly higher. In HostPapa's defence, it is customary for hosting providers to have exceptionally low signup prices to encourage more people to start using them. Then, after the introductory period (12 to 36 months depending on the plan you choose), the hosting provider then hikes up the monthly prices and hopes that most people still proceed to renew at these costs. 
In the case of HostPapa, the starter plan renewal costs skyrocket from $3.95 p/month to $10.99 p/month (this for the 36-month subscription). The business plan renewal cost is slightly higher, jumping up to $15.99, and $25.99 for the business pro plan.

Data centers are very important for improving site load speeds. Since all website data is stored in physical servers located in data centers, the closer the data center is to your audience, the quicker your load speeds will be. 
HostPapa has data centers located in the following areas:
Canada, Toronto

USA, Los Angeles

Europe, Amsterdam
This is great for audiences accessing your website from these location, but not as ideal for those who aren't in these locations. So the number of data centers and the respective locations is one factor that could be improved. 
As an Australian, my site loads could see improvements if the server locations were geographically closer. In saying that, it is a compromise I am happy to make since I am not only trying to reach the population of Australia, but also the US and other countries around the world.  
Overall, HostPapa is a sound solution for all your web hosting needs. With their features and services targeted at newcomers, the beginner-friendly dashboard provides a great opportunity for beginners to get their own website up and running. The range of features offered by HostPapa is sufficient enough to create a high-quality and secure site, but not so overwhelming with complex features that most people typically don't make use of. If you decide to go with HostPapa, just remember to take into account the high renewal fees down the track if you continue with their services. 
At this point in time, for me personally, HostPapa is the web host I currently use. That's because my focus is on minimizing costs as I work to build up my following. That's why HostPapa is a good choice for me as a relatively inexperienced user. But as my blog/website increases in traffic and my knowledge expands, I may likely steer towards alternative solutions, such as Bluehost.
If you want to get started with HostPapa, click below for more information and to sign up:
Sign up using this link to receive up to 83% off web hosting with HostPapa
HostPapa Review - Results Summary
Features

Ease of Use

Customer Service

Reliability/Uptime

Eco-friendly

Pricing

Security
Summary
Overall, HostPapa is a web hosting provider that offers attractive features with an appeal focused mostly towards beginners and small businesses. With its affordable web hosting plans and bundles of features, you can get started creating your fast, reliable and high-quality website in a matter of minutes. This web-hosting provider definitely provides an excellent bang-for-your-buck – just remember the high renewal fees if you do decide to continue with the service after your initial term period ends.