Bluehost Web Hosting Review: A Quick Summary of Its Features, Pricing, and Performance.
What Is Bluehost Web Hosting? Bluehost is a well-established web hosting provider that has earned a reputation for being one of the best in the industry. With its fast and affordable web hosting plans, Bluehost is suitable for all types of customers, whether you're a new blogger just starting out or a small business owner looking for a reliable web host
Bluehost Pricing: Bluehost offers a range of hosting plans to meet the specific needs of different users. The shared hosting plans offer you the best bang for your buck and are recommended if this is your first time creating a website, or you are a blogger like myself. 
What Can You Expect From A Bluehost Plan? A Bluehost plan comes with more than just web hosting. All Bluehost plans come with a tonne of extras, such as a free domain name, free SSL/CDN and a free site builder with hundreds of templates.
Why I Recommend Bluehost: After researching Bluehost and creating this review, I found their services to be affordable, fast and reliable. What I like more though is the huge emphasis the company places on providing intuitive, easy to use services, plus the exceptional customer service they offer! That's why I think Bluehost is one of the best web hosting services out there, specifically for new users!
Disclosure: My website/blog is reader-supported and may contain affiliate links. If you decide to make a purchase through links on my site, I may earn an affiliate commission, at no extra cost to you. You can read my full affiliate disclosure here.
Bluehost Web Hosting Review: An In-Depth Look at This Popular Web Host

Whether you're only now just learning about Bluehost, or maybe you know what it is but are still trying to decide whether it's the right fit for you – whatever the reason is, you've come to the right place! 
This Bluehost web hosting review will show you why Bluehost has paved itself as one of the most successful web hosts that exist out there today! In this detailed review, we will dissect everything that this web host claims to offer, including who this web host is for, plan options, features, pricing and much more!
But If you don't want to read my full review because you're eager to get started straight away (I definitely encourage that you do read my entire review though!), then don't miss out on the opportunity to take advantage of the exclusive discount for Bluehost shared-hosting plans that is on offer only for Trajectory To Wealth visitors!
Bluehost Overview: Who Is Bluehost and What Do They Offer?
First things first, what is Bluehost?
Founded in 2003, Bluehost is a web hosting platform designed to host your site – whether it be a blog, an eCommerce store, a branded website or simply a landing page.
Bluehost has grown to become one of the most recognized brands within the web hosting industry. The company, whose head office is located in Utah, offers a comprehensive suite of tools and features to attract and retain customers, which is evident from the 2+ million websites that are hosted by Bluehost worldwide.
Not only could it be argued that the Bluehost brand has grown to become synonymous with 'web hosting', but Bluehost is also one of the top recommended WordPress providers officially by WordPress.org and has been so for over 10 years.
Now, I don't know about you, but when I hear that a hosting company is explicitly called out by and recommended by WordPress.org, you better bet that I'm going to research that company and see what all the fuss is about.  
…Especially when you consider that WordPress is responsible for powering almost 40% of all websites that are in existence on the internet today.
With that said, in this Bluehost web hosting review, we'll put the company's promises to the test by undertaking a rigorous investigation of the following areas to find out if it lives up to expectations. 
Web Hosting Options: What variety of web hosting options are available and who are they targeted towards?

Speed:

 How fast will your site load and respond to visitor requests? 
Reliability/Uptime: Will your site run and operate correctly with minimal downtime?
Security: How secure and safe is your site from malicious threats?
Ease of Use: How intuitive and simple is the Bluehost interface?
Customer Support: Does Bluehost have a team of experts that can help you through any web-hosting related questions you may have?
Pricing: Is Bluehost pricing worth it for the features you get? 
Although Bluehost is a web hosting solutions company and offers a range of services beyond just standalone web hosting, its expertise definitely lies within web hosting.
In fact, Bluehost offers a number of web hosting options, so whether you're a complete novice just starting out, or a pro with multiple years of web design experience, the flexible web hosting packages allow anyone to get started immediately.
That's why I created this Bluehost web hosting review, to show you why it's a great option for any type of blog!
Bluehost offer a range of hosting options, the main ones of which include:
Shared hosting:  The shared hosting plans are the most cost effective plans offered by Bluehost. These plans are best suited for beginners and people like myself who operate a blog. These plans save you money because you're basically 'renting' server space with other users. But even though you may be sharing server space with others, your information is completely isolated and kept safe and private.
WordPress hosting:

 Bluehost also offers WordPress-managed hosting plans. This form of hosting is essentially the same as shared hosting, however it is designed specifically for websites that are built on and powered by WordPress. There are several WordPress-managed plans that you can choose from, each of which is tailored to address a specifc use-case. This includes additional features like eCommerce tools or SEO-optimization. As a result, most of the WordPress-managed plans are considerably more costly than the stand-alone shared hosting plans that don't have these added features.

Dedicated hosting:

 This is the most comprehensive form of hosting offered by Bluehost and provides the maximum amount of resource allocation and control out of all the plans available. Dedicated hosting gives users dedicated access to a unique server that they can configure any way they see fit. Because dedicated hosting gets you your own server, you have full access to the raw compute power, root access and dedicated server resources. Because of this, the price tag is much more expensive than shared hosting and most likely a complete overkill if you're just starting out.
You might be confused about the difference between the Shared Hosting and WordPress Hosting plans available at Bluehost – (I know I definitely was!).
But if you hover over the 'WordPress' drop-down list button on the homepage of the Bluehost website, you will notice multiple hosting options, including:
Websites

WordPress Hosting

WP Pro

WooCommerce
It's important to understand that all of these are hosting plans designed specifically for WordPress sites, however, each option gets you different things.
 For example, the 'Websites' option is tailored to those wanting to create a high-quality website and comes with extras such as email marketing. Whilst the 'WooCommerce' which is more focused on eCommerce comes with eCommerce add-ons and tools. The 'WP Pro' plan, on the other hand, is an even more sophisticated option that includes SEO tools and other features to improve the performance of your site. 
Basically, each of these three plans is optimized for a specific purpose. And because of that each of these plans is substantially more expensive than the Shared Hosting plan, and the WordPress Hosting plan for that matter. 
But what is the specific WordPress Hosting option? How is that different to the Shared Hosting option?
Well, it turns out that when Bluehost first came up with the idea of offering optimized WordPress hosting options to its customers, Bluehost initially started out by only offering what was essentially equivalent to the now "WP Pro" plan. This plan was clearly distinguishable from the Shared Hosting option at the time, and hence the price tag was considerably higher.
However, as a way to improve marketing over the proceeding years, Bluehost added the WordPress hosting plan option which is virtually indistinguishable from the regular shared hosting plans.
So to answer the question "What is the difference between the WordPress Hosting option and the Shared Hosting option?", there isn't one – they are more or less the same thing.
In fact, I've generated the below graphic to demonstrate this. If you look at the pricing plans for the WordPress Hosting and Shared Hosting plans, you can see the features are identical. I've used the Choice Plus plan to demonstrate this, but you will find this is also true for the Basic, Plus and Pro plans as well.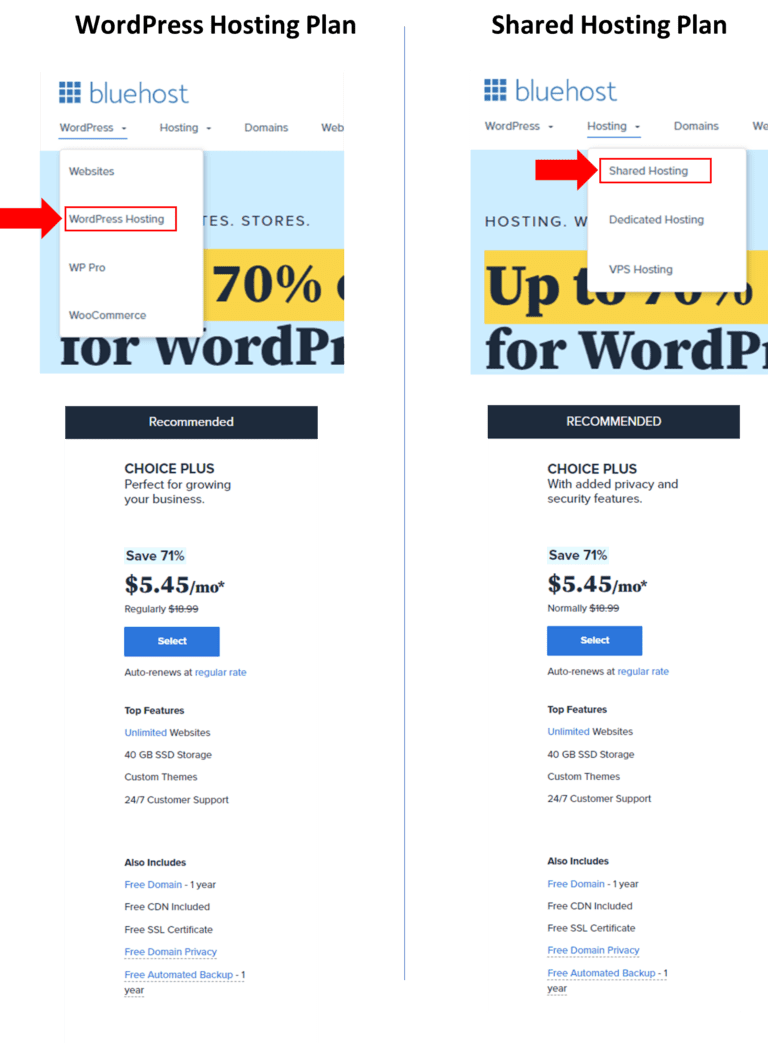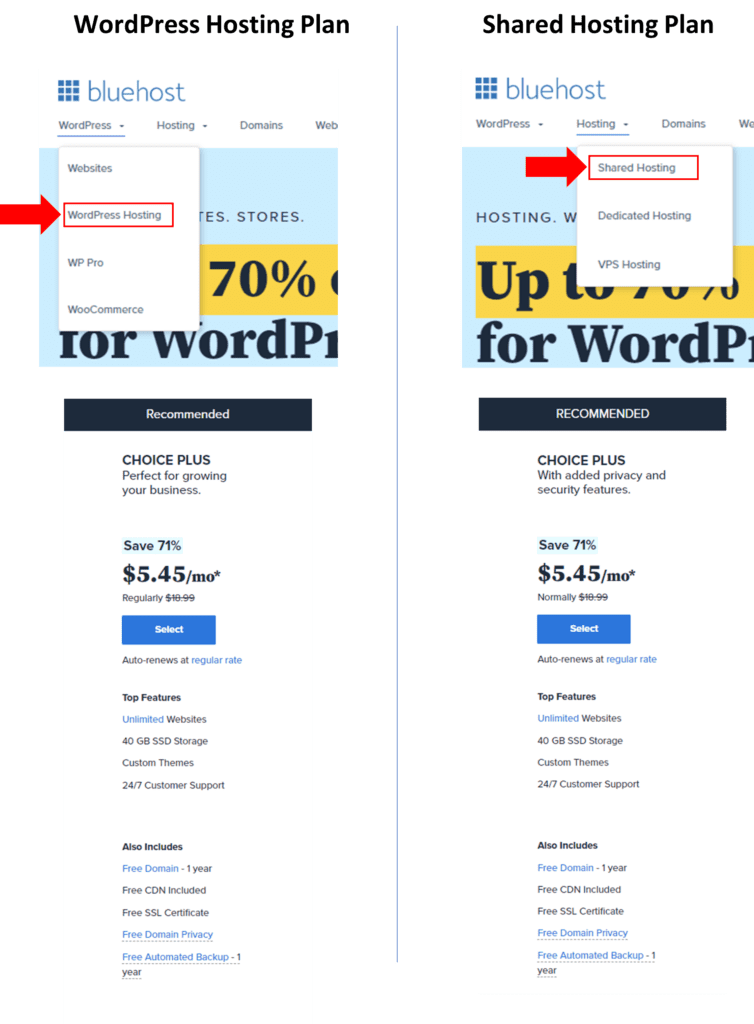 So with all that said – basically if you are new to web hosting, or operate a small blog like myself, then the shared hosting option is more than fine for your needs and provides you with the greatest amount of flexibility if in the future you do decide to move your website away from WordPress.
The extra features included in the WordPress Website/WooCommerce/WP Pro plans are likely overkill if you're starting out or just blogging… 
Recommendation from my Bluehost web hosting review: Save yourself some cash and just stick to the Shared Hosting plan!
Since the shared hosting plans are the most common and sought after plans that are purchased from Bluehost, I will be focusing on the shared hosting plans for the remainder of this review.
Speed: How Fast Is Bluehost and Why Does It Matter?
The speed of your site is a crucial consideration when it comes to picking a web host.
The speed of your site can directly affect whether visitors to your site will stay on your site, or whether they will leave your site.
That's why 'speed' is one of the top metrics I've considered at in my Bluehost web hosting review.
Ask yourself this – if you were browsing a website that took more than 5-10 seconds to load each time you clicked on a new page, do you think you would stay on that website or exit it and find another?
I don't know about you, but I would definitely be exiting it. 
That's why we want our site to run smoothly and quickly. 
And do you want to know what one of the biggest factors that affects speed is?  Yep, you guessed it – your web host.
The good news here is that Bluehost is fast. From my research, generally all sites hosted on Bluehost load completely within 3 seconds. The reason Bluehost has fast loading speeds is attributable to the global network it has access to.
The loading speed of your website is influenceby the distance or proximity your visitors are to the phsyical server where your site's files are stored. So basically, the further your site visitors are from the physical location, the slower the site will be.
However, Bluehost partners with Cloudflare, a company that specializes in a smart technology known as a Content Delivery Network (CDN).
Basically, if you are a Bluehost customer, you can take the advantage of Cloudflare CDN. Cloudflare has hundreds of locations spread across the world which will drastically help improve the speed of your site, regardless of where your visitors access it from.
Reliability/Uptime: Can You Count on Bluehost to Keep Your Website Up and Running?
In terms of reliability, we want our site to stay online and up and running as close to 100% of the time as possible. This is where the uptime metric comes into play.
Uptime refers to the total amount of time your site is fully functional and up and running. Ideally, we want 100% uptime but this is not really practical in reality. 
At some point your web host needs to undergo maintenance on its servers, so factors like these make it basically impossible to achieve 100% uptime for extended periods of time. 
So what we really are looking for in a web host is confidence in their system's ability to stay active and operational during unexpected situations. In other words – we don't want the servers where our site is hosted to suffer outages during unexpected events like spikes in visitor traffic, or during malicious attacks in an attempt to take down the server. 
So just how much uptime is enough?
Well the standard in the web hosting industry is 99.9%, which translates to approximately 8.8 hours of downtime per year. 
Although Bluehost does not have an uptime guarantee for its customers, they do promise to try and resolve any issues within 15 minutes, unless it is an extreme server outage in which they will notify customers. 

I personally don't like how Bluehost doesn't offer an uptime guarantee to customers, since a lot of other web hosts do. 
But despite this shortcoming, you'll be happy to hear that Bluehost is known for batting above the industry standard, and instead regularly delivers 99.98% uptime. 
To put that into perspective, that's equivalent to just 1h 45m of downtime over the entire year, which if you ask me – is not bad at all!
Security: How Bluehost Keeps Your Website Safe from Online Threats
Equally, if not, more important than speed and reliability when it comes to choosing a web host – is the security and robustness that is offered to your site.
So of course I'm going to consider the security offered by Bluehost in my Bluehost web hosting review.
Your site is the home of an abundance of important information and content, so it only makes sense that you choose a web host that provides your site with a high level of protection.
Remember how we spoke aobut the Cloudflare content delivery network (CDN) that is included with Bluehost web hosting? Well, this technology also promotes the safekeeping of your valuable data. Since your site content is stored in multiple locations for faster delivery, it also means that there are multiple backups of your data. So if a server happens to go down in one location for whatever reason, then you're provided with an extra layer of security by having your content backed up at another physical location. 
Not only this, but CloudFlare CDN also monitors malicious threats 24/7 and can distinguish between authentic traffic or spam attempts coming to your site. This means a Bluehost plan can protect you against malicious threats like DDoS attacks. A DDoS attack is a malicious attack where your site is flooded with inauthentic traffic from a compromised system to overwhelm and disrupt it. So being able to detect such attacks and act rapidly is a wonderful security feature offer!
Beyond the protection offered by CDN, Bluehost also provides free SSL certificates when you sign up to their web hosting services.
An SSL informs visitors your site is trustworthy and secure and that their most sensitive data is kept safe by your site. You can tell if a site contains an SSL certificate by looking at the URL and seeing if there is a lock next to it (see image below for example).
Having a SSL certificate adds credibility to your site, and its especially important if you are gathering information from your visitors like personal details, or if you have an eCommerce site where payment details need to be entered!
Extra Security - At a Cost: Is Bluehost's Additional Security Worth the Investment?
Although the above protocols are included for free in the base Bluehost plans, there are options to extend the security of your site. One such feature that can be added is automatic backups. This is to combat losing any of your site data in case of an emergency. Automatic backups, as the name suggests, take snapshots or backups of your website on a daily, weekly or whatever period of your liking. You can then restore your site to any of these backups, which de-risks you from losing valuable content. 

Bluehost automatic backups are provided by a service called CodeGuard. This is included in the Choice Plus and Pro plans for free (we will discuss each plan in more detail soon), otherwise it costs $2.99/mo for the basic and plus plans.
Bluehost also provides the option to take out domain privacy protection if you purchase your domain through them. This is important because ICANN, an organization tasked by the government to manage domain names -requires contact information for every domain owner to be publicly listed in a Whois database. This makes it possible for anyone to find and contact the owner of a domain name, including scam artists, hackers, and identity thieves.
Bluehost's domain privacy protection masks your personal information (such as your name, email, and home address) that is assigned to your website's domain name on the public ICANN domain directory and replaces it with its own general contact information. This keeps your email and home mailbox clear from spam and unwanted contacts related to your domain.
Similarly, domain privacy protection is included free with the Choice Plus and Pro plans, otherwise, it will cost you $11.88 per year.
Instead, I always think it's safer and more cost-effective to purchase your domain through a domain registrar like Namecheap! You can purchase a domain from Namecheap for less than $11.88, plus all domain purchases through these guys come with free lifetime domain privacy protection!
Ease of Use: Is Bluehost User-Friendly for Beginners and Experienced Users Alike?
The ease of use of a web hosting platform can often go underappreciated by people who are looking for a web hosting provider. 
This is mainly because some of the 'best web hosts' are tailored towards advanced users. So if your a beginner trying to start out, then these 'best options' may actually be detrimental to you.
Luckily, Bluehost is great for everyone, regardless of skill level.
The customer portal is extremely intuitive and clean, and an abundance of step-by-step procedures walk you through everything you need to know.
In fact, the first time you log into your account, Bluehost will prompt you with the option to create a website.Then all you have to do is follow the simple steps it walks you through. It will ask you to fill out a form that includes things like your website goals, your website name and what you want the tagline of your site to be. 
After answering these simple questions, you then get to choose from a range of existing website templates, all of which have different designs and colour schemes. Once you've identified a theme that appeals to you, all you have to do is select it and Bluehost will automatically install WordPress for you. This elliminates you from having to worry about how to correctly configure and install WordPress. 
Besides guiding you through how to set up your WordPress site, your Bluehost account will grant you access to cPanel – a reliable and intuitive server and site management platform. cPanel allows you to publish websites, manage domains, organize web files, create email accounts, and much more.
Customer Support: How Bluehost Helps You With Any Issues or Questions You May Have
For any challenges or questions that you do come across, Bluehost has a team of experts on standby 24/7 to assist you and provide customer support. 
Customer support is crucial for any web hosting service to have, but finding a service that has fast and top-quality support can be rare. 
Fortunately, Bluehost offers exactly just that, and most user reviews rave about how wonderful and helpful the Bluehost customer support team is. This service can be accessed multiple different ways, whether it be over live chat, the phone or an email ticketing system. 
The live chat is the option I use most frequently, and from my experience, you can expect to be connected to a live customer support specialist in under five minutes!
On top of that, Bluehost has an extensive self-guided knowledge base that you can navigate on your own in your own time. This knowledge base is filled with answers to frequent questions and useful information that you can easily access from your account.
Bluehost Pricing: How Much Does Bluehost Cost?
Let's complete the final piece of the puzzle – the pricing of Bluehost.
The first thing to mention about Bluehost prices is that they offer gigantic discounts during the first year to entice customers in. This is typical of web hosting companies across the board, but just keep in mind that the renewal costs after the first year are much higher. 
Bluehost's default pricing starts at $3.95/month, which is an introductory price from the regular $9.99/month rate (which is what it renews at after 12 months).
However, the good news is that I've been able to work out a deal with Bluehost for Trajectory to Wealth readers which will take this introductury starting price down even further. I've taken the liberty of summarising all of the key features of each plan below, so be sure to check them out!
Basic: The basic plan is their lowest tier plan. It allows you to host a total of one website. This allows you to use 1 domain only, and up to 25 subdomains. This plan tier includes 10GB SSD storage. For the first term, you'll pay $2.95 per month. When you renew the account after 12 months, you'll be charged $9.99 per month.
Plus: The Plus plan is a considerable upgrade from the Basic plan, and includes unlimited websites, 20GB SSD and unmetered bandwidth. The price for the first term is $5.45 per month and when you renew the account, you'll pay $14.99 per month.
Choice Plus: The Choice Plus plan includes all features of the above plus plan. You will also get 40GB SSD, free domain privacy, and automated daily backups powered by CodeGuard. The price for the first term is $5.45 per month. When renewing, you'll have to pay $18.99 per month.
Pro The Pro plan includes all features of above plans, with the key difference being that you get a dedicated IP address and optimized CPU performance. This however, comes with a considerably higher price tag. This will cost you $13.95 per month for the first term, after which you'll pay $28.99 per month.
What Bluehost Web Hosting Plan Is Best For Me?
In this Bluehost web hosting review, we've considered many shared hosting plan options, so you may be wondering which plan is best for your needs.
Basically, if you're only just starting out and planning to make just a single website, or say for example a blog – then the Basic plan will definitely be satisfactory to meet your demands.
If however, you do plan to make more than one website, or if you plan to expand and grow a blog, then you may want to consider some of the added specifications that the Plus/Choice Plus plans offer. If this is the case, then my recommendation is to go for the Choice Plus plan, since after all – the cost of the first term is exactly the same as the Plus plan. So it's a no-brainer to go with the Choice Plus plan for at least the first term. After which you can evaluate whether you want to continue with this plan and the added features it comes with. 
The two factors that stick out for me personally, however, is the supplementary domain privacy protection and CodeGuard backup that come with the Choice Plus plan. These combined add up to over $60 per year if you purchase them separately, so the fact they are included in the Choice Plus plan is a great addition.
As for the Pro plan, I personally don't think this is worth the cost for 99% of us. Unless you're an entrepreneur or a business that requires optimized web resources, then I say just steer clear!
My Take on Bluehost: Pros, Cons, and Final Comments
Overall from my Bluehost web hosting review, I think Bluehost does a magnificent job in providing a web host solution particularly to new entrants coming into the world of building their own website/blog. 
The web hosting brand definitely places emphasis on offering user-friendly solutions that are intuitive and remove as much complexity away from the user as possible. I think it does a much better job at this than many other web hosts I have researched. 
Although there are many things I love about Bluehost, there are also a few things that I dislike. I've summarized both my likes and dislikes below in the Pros/Cons table, so have a look at that before you make your decision about signing up!
Bluehost Pros and Cons: A Comprehensive Look at the Advantages and Disadvantages of Bluehost
Final Comments: My Overall Impression of Bluehost Reviewed in This Web Hosting Review.
Bluehost is endorsed by the WordPress.org team, which alone speaks multitudes about the company's competence to deliver reliable and optimized hosting solutions. Bluehost is routinely recognized by the web hosting community and offers round-the-clock customer support. 
As my Bluehost web hosting review has shown, I absolutely recommend Bluehost web hosting services since they offer a no-fuss professional level of service that places emphasis on performance and usability. All of this is backed up and validated by the substantial track record of successful testimonies made by many of its customers.
Don't forget to check out my comprehensive beginner's guide on how to start a profitable blog with Bluehost below!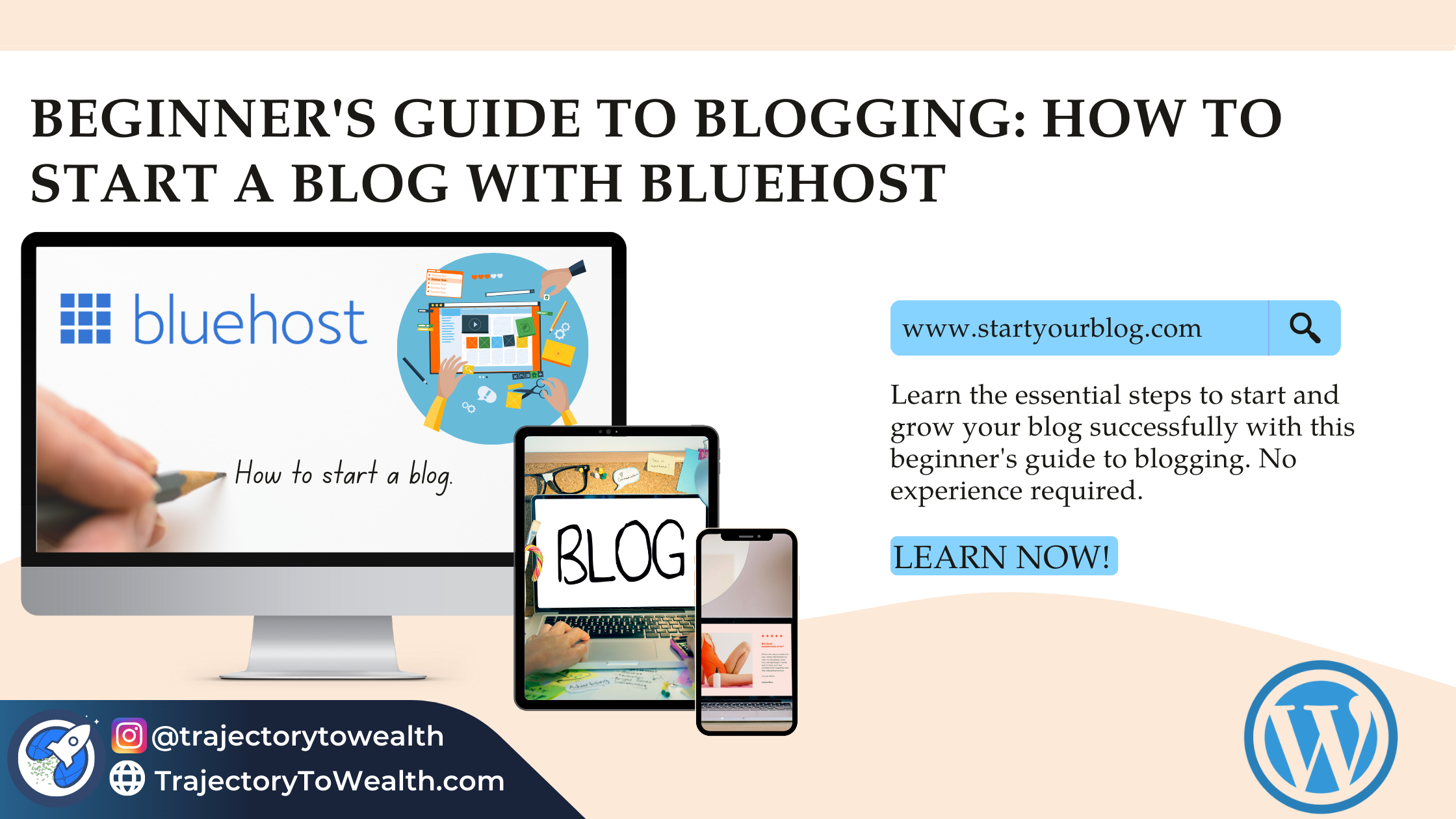 Start a blog with Bluehost: Our beginner's guide covers niche selection, plugins, & account setup. Launch your blogging journey today!
Bluehost Reviewed
Speed
Reliability/Uptime
Security
WordPress Compatibility
Ease of Use
Customer Support
Pricing
Website Design Features
Summary
In conclusion, this Bluehost web hosting review highlights why Bluehost is a popular choice for web hosting, especially for WordPress sites. Bluehost offers fast and affordable web hosting plans suitable for all types of customers, from new bloggers to small business owners seeking a reliable host. In addition to web hosting, a Bluehost plan also comes with various extras, including a free domain, SSL certificate, and site builder with hundreds of customizable templates. This unbiased Bluehost web hosting review provides all the necessary information to help you make an informed decision about your website hosting needs.