Survey Junkie Review – How To Make Money With Online Surveys
Hello and welcome to my review of Survey Junkie. 
In this review, I am going to explain to you what Survey Junkie is, how it works, and most importantly – how you can earn extra money online by completing online surveys. I used this method a lot, particularly during my university days!  
Although these surveys didn't make me a millionaire, they did help me make some extra cash to help out with my everyday expenses. The best part about online surveys is that they can be completed anywhere, all that is required is access to an internet connection! 
So even though online surveys don't pay a tonne, the beauty is that they can be shaped into absolutely any lifestyle. I used these predominantly when I was a full-time student studying aerospace engineering, so I didn't have much time on my hands, yet because the surveys are so accessible and easy to complete, it made it possible. 
That's why I am excited to share this review with you today, so let's get started.
Jump Directly to

Survey Junkie Sign Up!
Many people earn rewards online by completing surveys for money, and in today's age, there are plenty of survey sites available. But currently, one of the biggest paid survey companies in the world is Survey Junkie.
I wouldn't be writing a review about a service if I hadn't tested it myself already. So I can confirm that Survey Junkie is a legitimate company that does pay you for completing surveys. In fact, this survey site is so popular that it has over 20 million members and a Truspilot rating of 4.5/5 stars which comes from almost 30,000 reviews.
Don't just take my word for it though, you can gain additional insights into practical tips and real earnings potential with Survey Junkie by exploring this in-depth Survey Junkie user experience review by LushDollar.com, a website dedicated to exploring the many ways of saving and making money. Their review offers valuable advice and a personal earnings breakdown that can help you set realistic expectations for your Survey Junkie journey. It's a great complementary resource to this review post to further aid in your decision making process.
Survey Junkie: A Simple Guide to Getting Started
Survey Junkie is a user-friendly platform for earning extra income. Here's a brief overview of how it works:
Sign Up: Register for a free online account with Survey Junkie.
Complete Your Profile: Fill out your profile details to receive surveys tailored to your background and interests.
Participate in Surveys: You can take surveys at your convenience, from anywhere.
Earn Points: Each completed survey rewards you with points.
Cash Out: Accumulate a minimum of 500 points (equal to $5) and redeem them for cash via PayPal, or choose online gift cards if preferred.
This process offers a straightforward way to earn some extra cash, with no complicated terms—just a simple method to put money in your pocket.
How Do You Make Money With Survey Junkie?
A question that is probably on your mind by this point is "why on Earth would I be paid simply for completing surveys?". And that is a perfectly valid question to be asking, it almost seems too good to be true, right? 
The answer is no, actually. In fact, you may not realise how valuable your input into surveys and questionnaires can be to companies who are hoping to learn more about how customers use and either like or dislike their products. So, companies actually pay Survey Junkie to conduct surveys on their behalf, and because of this, Survey Junkie is able to pay you a portion of that amount for your participation.  
So essentially, your opinion and input are quite literally worth their weight in gold (or in this case, cash points that can be redeemed for real money) to these market research companies. They need to know what their existing or potential customers think of their brand or product as a whole, such that they can use this information to improve their offerings and advertisements. 
This is how Survey Junkie can pay you for completing surveys, which I find incredibly cool! 
How Much Money Can You Make?
Now that we know HOW we can make money by completing online surveys, how MUCH money can we actually make from Survey Junkie?
First of all, you won't become rich by completing these surveys, but if you are consistent, then you can make a nice little amount to supplement your income. Each survey typically takes approximately 5 to 20 minutes to complete, but this range can vary. 
Each survey pays on the order of around $1 to $3, and surveys that take longer pay you higher amounts. Survey Junkie provides an approximate time of how long each survey you participate in will take, but from my experience, usually you complete them faster than what they estimate. 
In terms of the number of surveys that you can complete, Survey Junkie posts new surveys every day for you to complete. But depending on your interests (based off what you enter on your site when you sign up and the questionnaires you complete), you may also receive targeted emails that are personalized to you that contain additional surveys that you can complete. 
Putting all this information together, it is safe to say that you can complete a fair few surveys within the span of one hour, given there are surveys available for you to complete. So earning around $5 to $15 per hour would be a reasonable estimate. 
It is worth noting though that you will not have an infinite supply of surveys that you can complete one after the other. Instead, you usually will only be able to complete a few per day, which means you might only be able to spend a combined total of a few hours per week answering surveys. 
Again, the purpose of Survey Monkey isn't to replace a full-time job, it's just a way to make a little bit of extra money on the side.
Signing up for Survey Junkie is incredibly easy. There are however a few restrictions that may limit your ability to create an account. Currently, to sign up for Survey Junkie, you have to be at least 18 years or older and live in one of the following countries:
Australia

Canada

United States
If you do meet the above criteria, then all you need to do to sign up is click on this link to be directed to the Survey Junkie website. From here you simply click the 'Join Now' button, enter you email adress and begin entering your details to get your account up and running – super simple!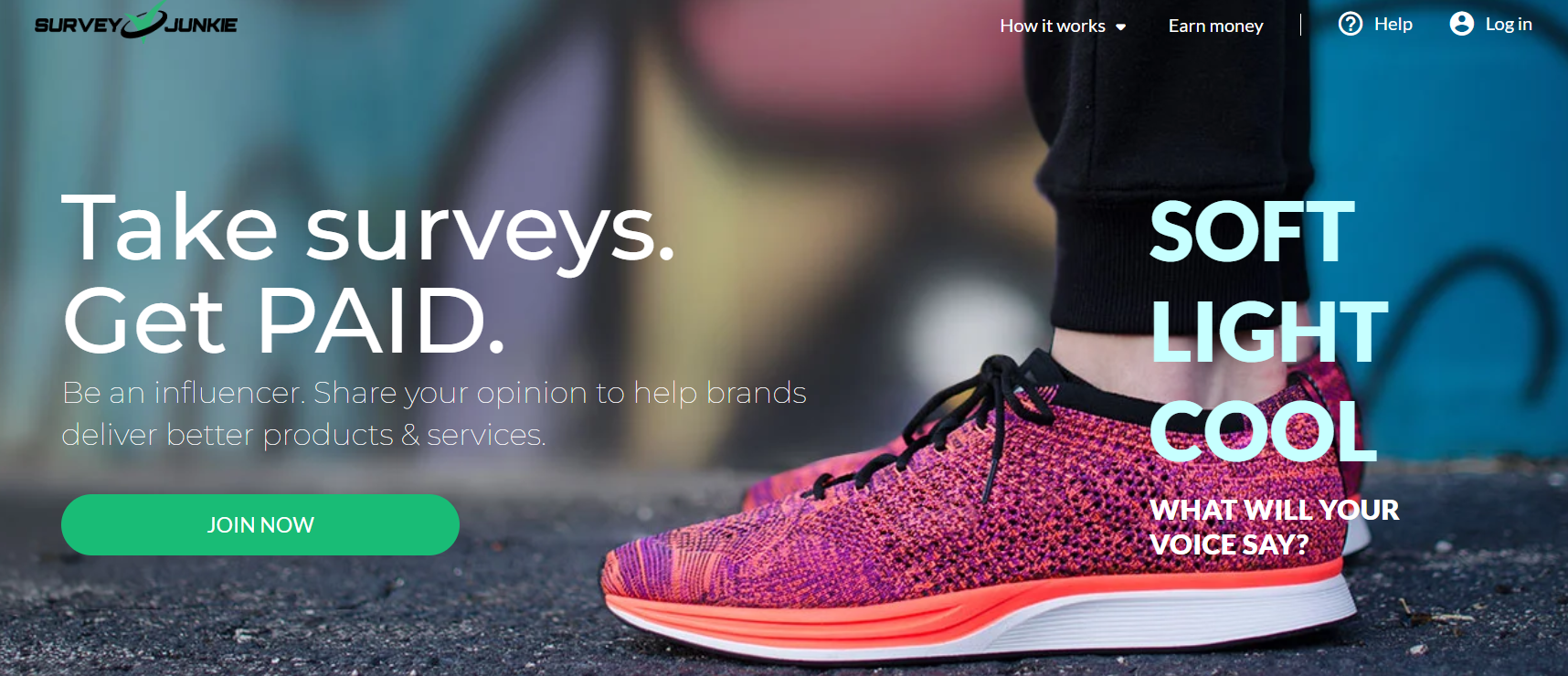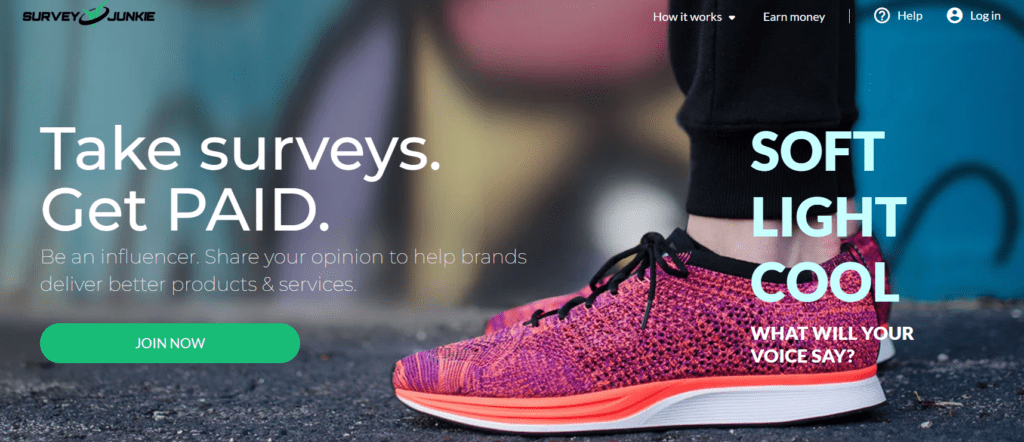 What Completing A Survey Looks Like
As an example so you know what to expect, here's what it looks like to complete a survey with Survey Junkie. 
Once you sign up for an account, you can access the surveys directly from the home Survey Junkie home screen. In fact, when you first sign up, you will have a number of profile questionnaires to fill out, which you will earn points for completing. Remember, points are what are needed to redeem your cash rewards. 1 point equals 1 cent, so every 100 points will earn you $1. 
These questionnaires are added so Survey Junkie can learn a little bit more about you and your interests, such that they determine which future surveys you can qualify for that align with your interests. Each profile questionnaire takes about a minute or so to complete, and you will get 10 points for each one you complete. 
After you fill out a profile questionnaire, you can navigate to your dashboard where you'll find all the surveys you've qualified for. From here you can basically start taking surveys straight away. 
As I briefly mentioned already, you'll see and know exactly how many points you'll earn for completing each survey before you start it, as well as how long it will take to complete. Point rewards are credited to your account instantly, so there's no waiting around which is great.
And that's all it takes to complete surveys and earn money!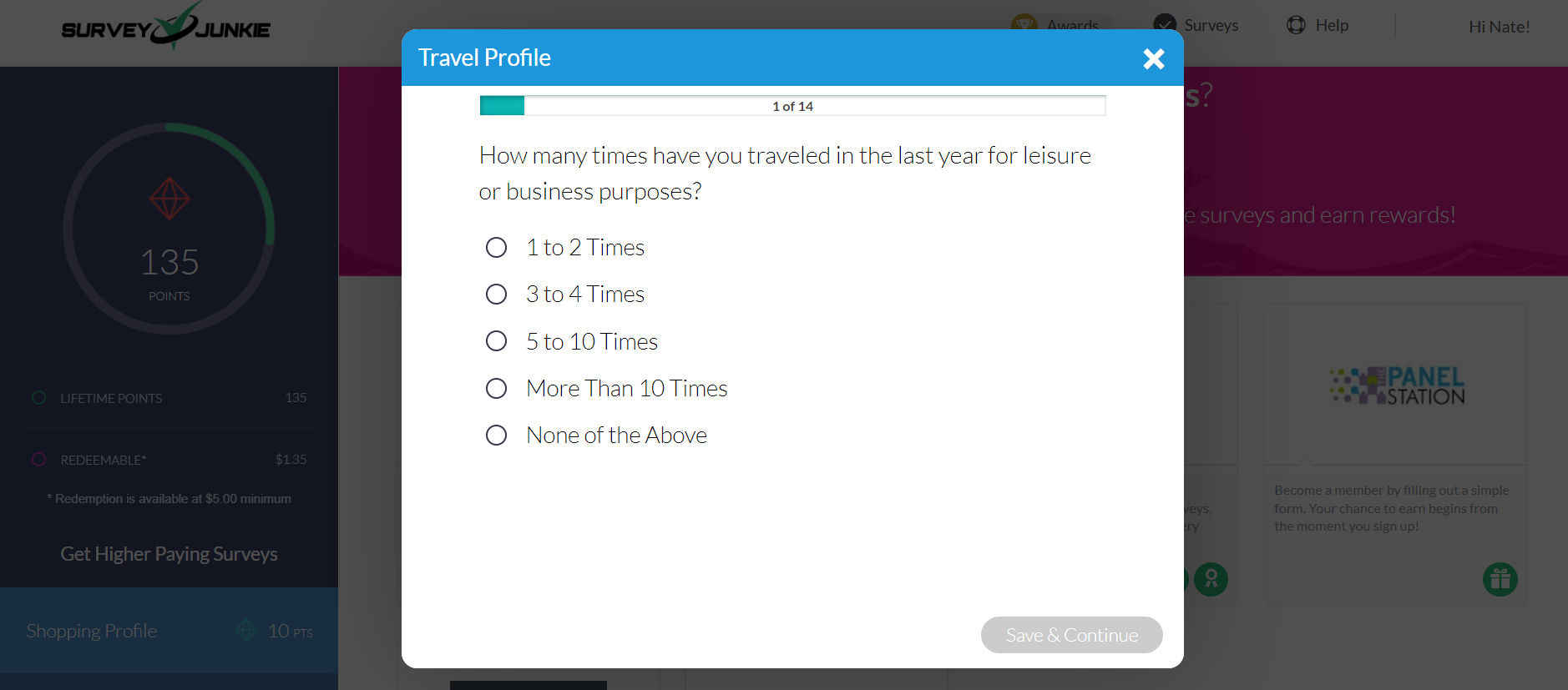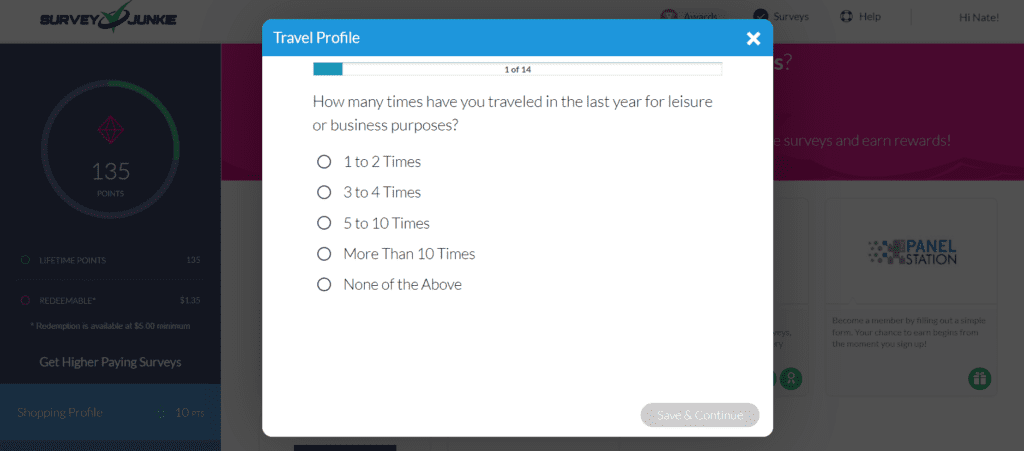 How To Maximize Your Earnings
The key thing you should do to maximize your earnings with Survey Junkie is to keep an eye out for new profile questionnaires that may appear on your dashboard, since these are used to determine if you qualify for a survey. The more questionnaires you complete, the more surveys you will potentially qualify for and be able to participate in. This equates to more cash in your pocket!
Is Survey Junkie worth it?
So after everything we have discussed, do I think Survey Junkie is worth it? 
I think the answer is a definite yes, but it does depend on your circumstances and expectations.
 Let's face it, it won't be making you rich. Instead, where I see the power in something like Survey Junkie is the additional income it provides, helping to handle some of those bills that seem to continuously pile up. 
In particular, when I was at university, being able to earn even just an extra $20 to $50 a month was a great help, and achieving earnings of this scale is certainly possible with Survey Junkie. But the best part about Survey Junkie is how accessible it is. 
There's no special software required, just a device that is connected to the internet. This makes completing the surveys a very flexible way to earn extra money on the go, and it can be adapted to suit absolutely any lifestyle, even for those who work long full-time hours.
So overall, I highly recommend Survey Junkie and recommend at least giving it a go, and then you make the call yourself whether or not it is something you want to continue using.
Unlock Smart Savings

With Survey Junkie
Survey Junkie FAQ Section
Survey Junkie Review 2023 - Get Paid With Online Surveys
Ease of Use

Earning Potential

Payment Reliability

Customer Support

Variety of Surveys

Sign-up Process

Trust and Safety:
Summary
Survey Junkie emerges as a reputable platform in the landscape of online survey sites. It offers a user-friendly interface and an easy sign-up process, making it accessible to a wide range of users. The site's earning potential, while not substantial enough to replace full-time employment, provides a viable option for those looking to supplement their income. Survey Junkie scores high on payment reliability with diverse options like PayPal and gift cards. The variety of surveys and consistent availability contribute to an engaging experience. Trust and safety are underlined by positive user testimonials and a high Trustpilot score, bring my total review score to a respectable 4.6/5.0.